We Know Fast-Food Chains: How Empire Can Help Your Parking Lot & Drive-Thru
Posted on July 30, 2021 by Rafael Cantillo
As a fast-food manager, you have many concerns. One of them is getting your customers in and out as quickly as possible. Any disruption to parking lots or drive-thrus at fast-food chains can cost a lot. Depending on where you are and what kind of food you serve, 50 to 70 percent of your customers might be using the drive-thru window.
Many of those customers will go elsewhere if the drive-thru is not available. At the same time, you need to maintain your parking lot and drive-thru properly so that your customers are not dealing with potholes and rough tarmac.
All of this makes for a special challenge: How do you get your drive-thru and lot patched or repaved while minimizing lost productivity? Empire has your back.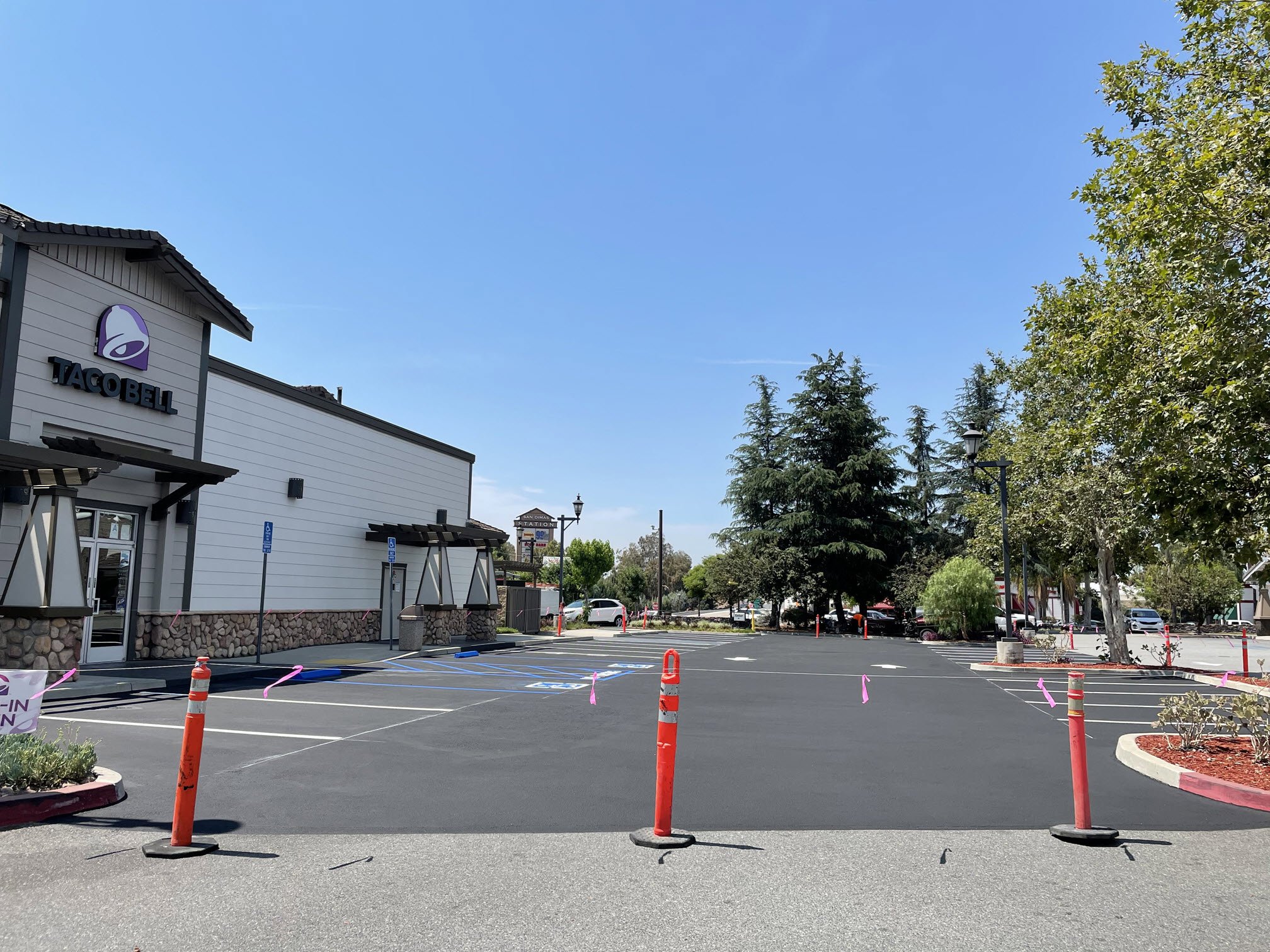 (Taco Bell, San Dimas)
Ways to Minimize Disruption
So, how do you minimize disruption? There are a number of things we do to help you keep your business moving smoothly. We know you can't afford any disruption, so we do our best to:
Avoid your breakfast, lunch, and dinner rushes. We will talk to you about the best time to do the work when you have the fewest customers to be inconvenienced. We can also work after hours.

Resurfaced asphalt

can be used within a few hours, so we can use timing both during the day and the week to ensure that your drive-thru is closed at the quietest time possible. If necessary, we will break a project up so it can be completed in segments.
Schedule your work for warmer days, when asphalt tends to dry faster.
Ensure that paths of travel, especially for wheelchair workers, are not blocked. If they must be disrupted, we ensure that it is for the shortest period of time possible.
Apply

sealcoat

to extend the lifespan of your pavement. This is particularly important in Southern California's hot weather, where the sun can dry asphalt out and shorten its life. We recommend this about 4 to 6 months after repaving or 45 to 60 days after patching, and every 3 years for routine maintenance.
Proper asphalt maintenance is also key. The better you treat your asphalt, the longer it will last. If we have to fully repave your lot, then each section will be unusable for 48 to 72 hours, which can be very expensive. Minimize this by doing all of your maintenance on schedule. In Southern California, we recommend doing asphalt maintenance in the spring and fall when temperatures are more reasonable.
How We Work with Fast-Food Chains to Get the Best Results
We have serviced an impressive number of fast-food locations, so we know what you need. First of all, we understand that you might have budget limitations and that we need to work within those and prioritize. For example, significant potholes can present a liability issue, which need to be fixed urgently.
We also know that fast-food chains may have some other concerns, which include:
Aesthetics

You need your parking lot to look good. Sealcoat can help with this, as can redoing your

striping

frequently. We'll help you choose a color that stands out and works with your brand's colors. (We recommend the standard colors, but

can

mix custom for you if needed.) We can also do more detailed custom work. For example, if you are sharing a lot, we can apply your logo to your spaces so customers can immediately see where they are supposed to park.
We are intimately familiar with both ADA and California Commission on Disability Access (CCDA) regulations. Have us come over and look at your parking lot. We can help you make sure that you have enough disabled parking spaces, that they are properly laid out, that all signage is in place, and that wheelchair users can safely navigate from the disabled spaces to your door. Not being compliant can result in high fines.

Improving Drive-Thru Flow

You want people to be able to pass through the drive-thru quickly and smoothly, and we can help by looking at your layout and comparing it with our other clients, allowing us to potentially spot issues that are causing a bottleneck. People generally use the drive-thru at fast-food chains when they are in a particular hurry, after all.

Charging Stations

If you are providing EV charging stations, talk to us about how we can help with signing and parking lot markings that will help your customers find them and discourage people from parking gasoline-powered vehicles in front of a charging station.
Our vast experience allows us to provide the highest quality of maintenance and customer service. Furthermore, we come into each project with that experience. We can look at the state of your parking lot, drive-thru, sidewalks, etc, and spot issues you might not have noticed. We can then make recommendations taking into account your budget. Our services are not one-size-fits-all. Rather, we tailor them to the size of your business.
We provide annual inspections to help you spot further issues and keep up with changing accessibility requirements. By checking in frequently and observing your traffic patterns, volume, and drainage issues, we can also come up with an optimum maintenance schedule.
Why Else Should You Choose Empire?
Choosing a contractor for your parking lot repair or maintenance can be challenging. Empire has your best interests in mind.
Almost all of our work is done by our own in-house team. We rarely subcontract, and generally only do so for ancillary services. Our people are trained and vetted, and work together as an established team.
We are licensed and bonded, and promise that we will do the best work we can. Also, we enjoy a challenge! Some fast-food chains have tricky layouts or "interesting" surroundings. We can help you put together a layout that will best serve your customers and ensure that everyone can park safely or get through the drive-thru and on their way quickly.
Choose Empire Parking Lot Services for all of your parking lot repair and maintenance needs. We have worked with many fast-food chains in Southern California and are highly familiar with your specific needs. Contact us to discuss your specific project and get a quote.
Share