Parking lot striping goes by several names: line striping, parking lot marking, and even parking lot painting. But no matter what you call it, we offer it and were pretty darn good at it. That's because we have over 30 years experience in the marking industry. Another great thing about parking lot striping is that it's the most economical way to give your parking lot that fresh, new look.
At Empire we have performed countless marking projects that include everything from small parking lots, to distribution centers that are over a million square feet in size. That being said, our average project is typically a strip center, business park, or your local church. No matter what size your project is, we take the same careful approach to each and every job we perform.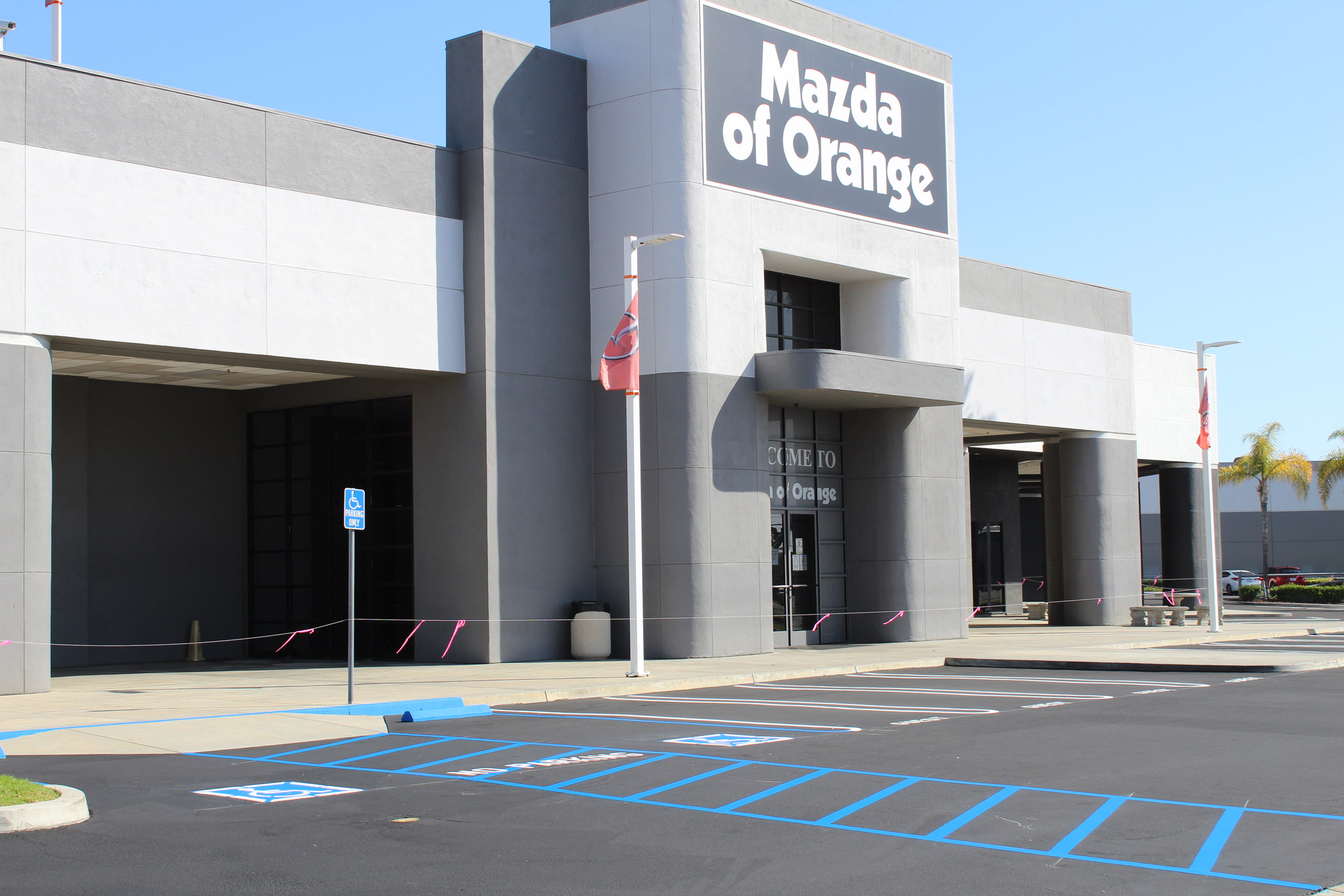 (Mazda of Orange 2021)
Our Process
Once you contact our office we will have one of our experienced estimators give you a call to discuss the details of your project. If needed they will set up an appointment to go out and see your property, and evaluate exactly what your needs are. Next they will make recommendations to you, as well as provide you with a competitive quote also. We can provide you with a professional diagram that clearly communicates exactly what areas we are bidding to repair, so that there is no confusion about what you are getting.
Marking Services Offered
Our striping services include all general line striping and marking services typically found in every parking lot. But we also offer stencil marking services in both MUTCD standards, as well as custom created stencils for your branded projects. We offer a complete solution for your one time re-stripe project, or your annual maintenance contract. Simply put, if it's on asphalt or concrete, and it needs to painted, then you have come to the right place.
Additional Striping Services We Offer
New layout striping and re-striping
Curb preparation, curb painting and curb stenciling
ADA related markings that include handicap symbol, path of travel, and accessible cross hatch painting which is always installed to the latest California ADA codes.
Shotblasting, Grinding, and Sandblasting
Playground / Game Court Markings
Warehouse Striping and Stenciling
Sports Field Markings
Parking Lot Striping Project Types
Parking Structures
Amusement Parks
Shopping Malls
Warehouses
Facilities
Hospitals
Schools
Churches
Campuses
Restaurant Chains
About Our Professional Striping Crews
At Empire we only employ highly skilled people. All of our striping foremen are capable of painting in water base, oil base, and epoxy coatings. All employees are trained in proper jobsite safety, and are familiar with ADA, OSHA, and MUTCD codes and standards. Our crews will always show up in proper safety gear appropriate for each project, and all of our larger jobs have a supervisor overseeing the project in addition to the project foremen.
Please refer to our FAQ and Glossary pages if you see any terms or services that you are unfamiliar with.