Concrete Sidewalks Contractors
It has happened to all of us. Hurrying inside your office building for an important meeting, or just walking into a restaurant to grab lunch, then it happens; you trip on one of the concrete sidewalks. Luckily, it was only a little stumble, you feel a bit foolish and then continued on inside. However, sometimes it does not play out that way and you have 'hurt more than your pride'. Trip hazards are defined by The Americans with Disabilities Act (ADA) as "any vertical change of over ¼ inch or more at any joint or crack."
As a facility owner or manager, the thought of a visitor or client to your business hurting themselves on your property should make you cringe. And this should not be just out of pity for a fellow human sustaining a serious injury, but also out the fact that it could result in a possible lawsuit. There have been several cases of lawsuits against commercial enterprises, just because they did not properly tend to concrete sidewalk repairs at their facilities.
Keeping your concrete curbs and sidewalks in good condition is a must for every property owner and manager. This not only prevents trip hazards, but also does wonders for the curb appeal of your commercial facility.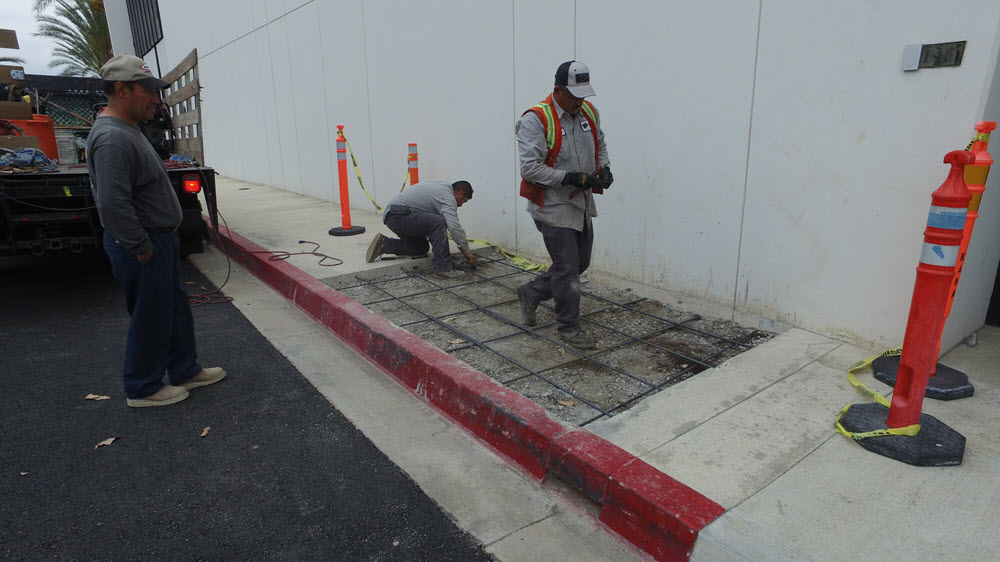 Empire Parking Lot Services Can Help
Empire Parking Lot Services is a state licensed concrete contractor in Southern California serving Orange County and surrounding areas; Los Angeles, Riverside, and San Bernardino counties. We offer top quality concrete sidewalk repairs and replacements for your commercial, retail, or industrial properties.
Whether your concrete needs replacement or repairs, we can handle it. We understand that there is more to concrete sidewalks than just pouring new concrete. That is why we take the necessary steps to ensure that the repaired/replaced sidewalk is smooth, aesthetically pleasing, and long lasting.
The importance of having your facility's concrete sidewalks installed by experts cannot be emphasized enough. At Empire Parking Lot Services, you will receive quality installation, replacement, and repair services for your facility's sidewalks that only years of industry experience can guarantee.
Uneven or Cracked Concrete Sidewalks
A lot of property managers think a cracked sidewalk would require a huge repair project, but it is not actually that bad. It may just be a simple repair that's needed. We're an honest and reliable company. We will carefully analyze the damage and let you know whether the sidewalk needs a repair or a complete replacement.
Replacing Concrete
For a complete concrete sidewalk replacement, our expert paving division will break up the existing section that's sunken, uneven, raised, or broken, haul away the old concrete to be recycled, and level off the area. We will then use a form to hold the new concrete into the needed shape of the new sidewalks, and pump concrete into the area afterwards. As a finishing touch, we will level off the wet concrete to ensure all the connecting sections are flush. Once everything has dried, the form will be removed and the sidewalk opened up to foot traffic again. Our production team will coordinate with you directly to make sure that disruptions are kept to a minimum.
At Empire Parking Lot Services, we are committed to offering competitive cost-efficient concrete services with ZERO compromise on service or quality. We offer a quick turn-around time and are always available to answer all of your questions. Get in touch with us today for a quote or to discuss your upcoming project.
Please refer to our FAQ and Glossary pages if you see any terms or services that you are unfamiliar with.