Safety First: Bumpy But Required.
Have you ever stopped to really think about those little bumps that make our grocery carts go wild? They just so happen to be super important. Let's take a moment to really know what they are used for and also realize that they are required by law to be installed (in California).
The bumps that we are referring to are called truncated domes, or an ADA Detectable Mat. These mats fall under code requirements for "detectable warnings." They are a state regulatory requirement found in Chapter 11 of the California Building Code to inform a blind person that they are entering a hazardous area (i.e. an area of vehicular travel).
They are required in areas that do not have curbs that border vehicle travel, and also at curb ramps. Whether you are starting new construction, upgrading to become compliant, or in need of repairs, you can count on Empire to give you all possible options while being up to date on the most recent laws to keep you compliant and free from dreaded fines and citations.
Truncated Dome Installation Process
At Empire we pride ourselves in installing the best products that can stand the test of time; this truncated dome system is one that goes down and stays down for a long time. The truncated mat itself has a very low profile, one of the lowest in the industry. This low profile product is very important when you consider possible tripping hazards.
Unlike other systems, our truncated mats are easy and affordable to repair when they start to wear. They do not require a costly proprietary system to install. Our truncated domes come in many colors and can be cut into almost any shape needed including radiuses and angles, all while maintaining the dome layout standards required by law.
This is another place where we provide you with the best options and the savings speak for themselves. Our goal is to gain your trust from the beginning with great service and an exceptional product, not to obtain repeat business at your expense due to an inferior product.
Ultimately our dome system is affordable to install and to repair, and looks great as well.
FAQs
Who knew there would be a frequently asked question section for these little domes? Just in case you were wondering about these topics…. Here you go.
Are you in a city or state that has unique requirement such as a minimum dimension requirement?
For example, California requires truncated dome pads have a 3-foot minimum dimension in the direction of travel. You may have seen many variations around town but with Empire a 3 foot minimum will be our starting point to ensure your compliance.
What color pads will work for your project?
the ADA requirement for visual contrast is most important. If you needed to install the domes on a yellow surface, installing yellow truncated dome pads would offer virtually no contrast with the surrounding surface.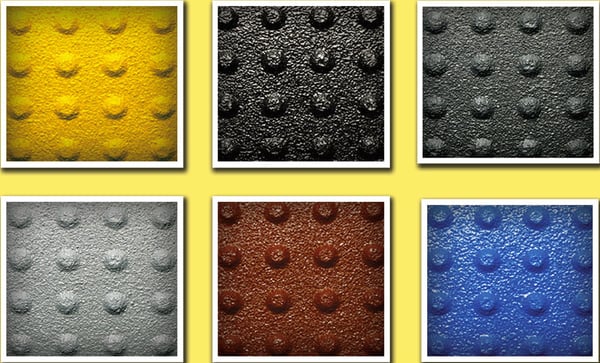 Does the size of the domes and their spacing meet ADA requirements?
This is where having a professional like Empire PLS will come in handy. We ensure that the spacing, design, and layout meet the ADA Federal and individual State requirements.
Does the edge of the pad meet the non-trip hazard ADA rule?
You can have full confidence that this rule is upheld and adhered to with Empire as your installer. Keep in mind that the pads, when placed end to end, must maintain the dome pattern and alignment. Precision and attention to this type of detail is our expertise.
Please refer to our FAQ and Glossary pages if you see any terms or services that you are unfamiliar with.