Warehouse Sign Parking Lot Sign & Bollard Supply and Installations
Here at Empire we offer a full line of both interior and exterior sign post and bollard installations. When it comes to our signs and bollards we only use the highest quality materials and supplies. From 3M reflective tapes to heavy gauge steel post and bollards, the quality can be seen in each one we install; and we install a lot of them! All of our sign installations are done to proper code for height, location, as well as position placement.
Read below to learn more about the types of products we offer.
Traffic Sign, Parking Lot Sign, and Street Signs Supplied & Installed
At Empire, our team can create and install almost any sign that you can find in a parking lot or warehouse environment. From highly custom to standard signs we have you covered. Please take a look at some of the many signs we currently offer. Also, keep in mind we offer a complete line of custom sign & pole options as well.
Below is a list of some of the signs we install every single day. All of our signs meet CalTrans (California State DOT) MUTCD standards as well as all local ADA requirements. All signs we install are made on durable and high quality DG3 reflective aluminum sheets with 3M vinyl graphics. These signs are maintainable, Washable, and graffiti resistant.
Custom Parking Signs: visitor, employee of the month, reserved parking
Community Traffic Signs: drive slow, children at play, neighborhood watch
No Parking Fire Lane: fire safety signs that meet all local fire codes
Handicap Parking: van accessible, standard & entry signs
Street Signs: that meet California MUTCD standards
Traffic Signs: stop signs, do not enter, tow away
Parking Structure Signs: reserved, visitor, floor markers
Stall Designation Signs: parking layouts, designated parking
Warehouse Signs: Low tension, decal placement, hanging signs, etc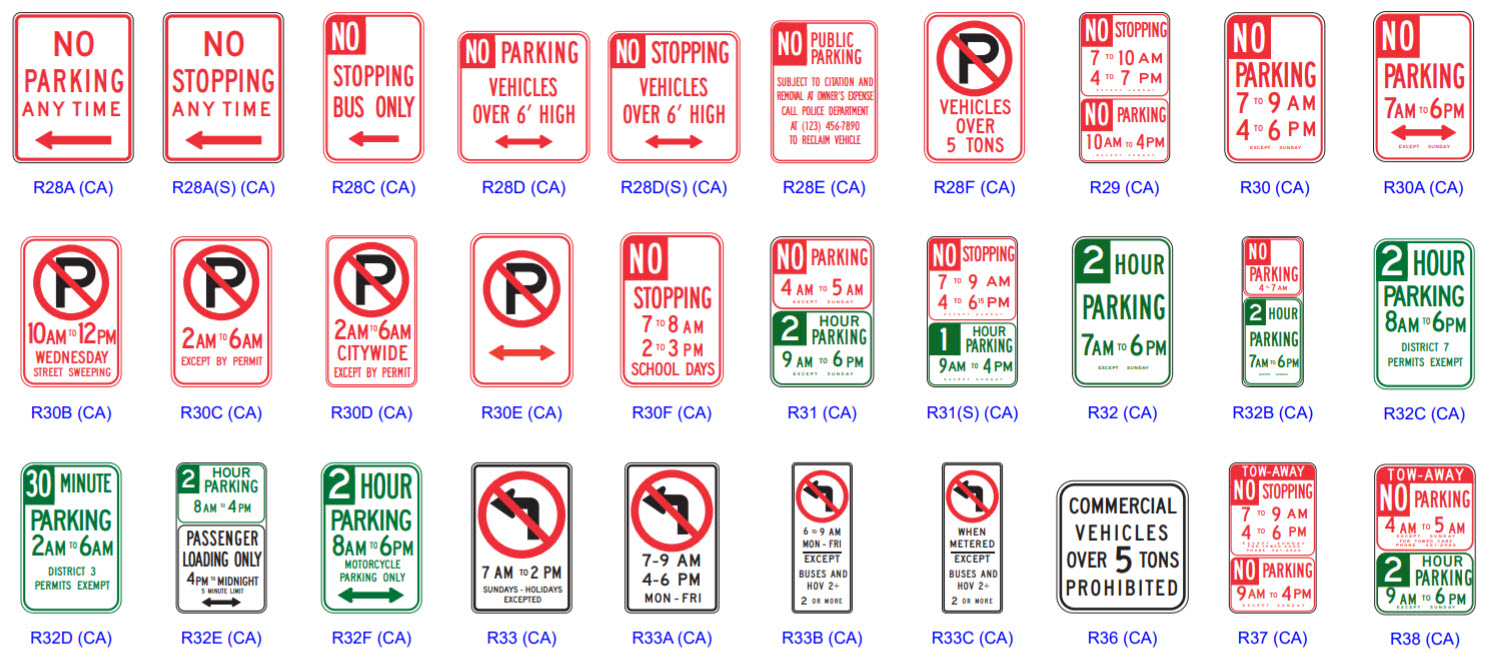 Handicap Sign Installation / ADA Sign Installation
Empire Parking Lot Services offers a complete line of California ADA compliant handicap signs & posts. A handicap sign is the simplest way to start getting your parking lot compliant with the ADA. We offer a large variety of ADA compliance services that you can read more about. Every year, Empire installs hundreds of handicap signs and post throughout the Southern California area. Not only do general contractors and municipalities use our services, but property owners and facility managers do as well. The reason is simple; we understand how to get your handicap signs up to code quickly, affordably, and correctly the first time. Empire is the right choice for your handicap parking lot sign installation so call us today.

Sign Pole and Post Options Available
At Empire we offer a wide variety of post and poles for your traffic signs. From standard u-channel and round post, to convenient uni strut breakaway post. No matter what your needs are we have you covered. All sign and post we offer can be installed in asphalt, concrete and dirt/ grass applications. We can also wall mount on almost any type of surface. For added durability we can also install sign post in concrete filled steel bollards for a nearly impossible to break sign option. Consider this for signs in your parking lot that you are finding yourself replacing due to vehicles hitting and bending them.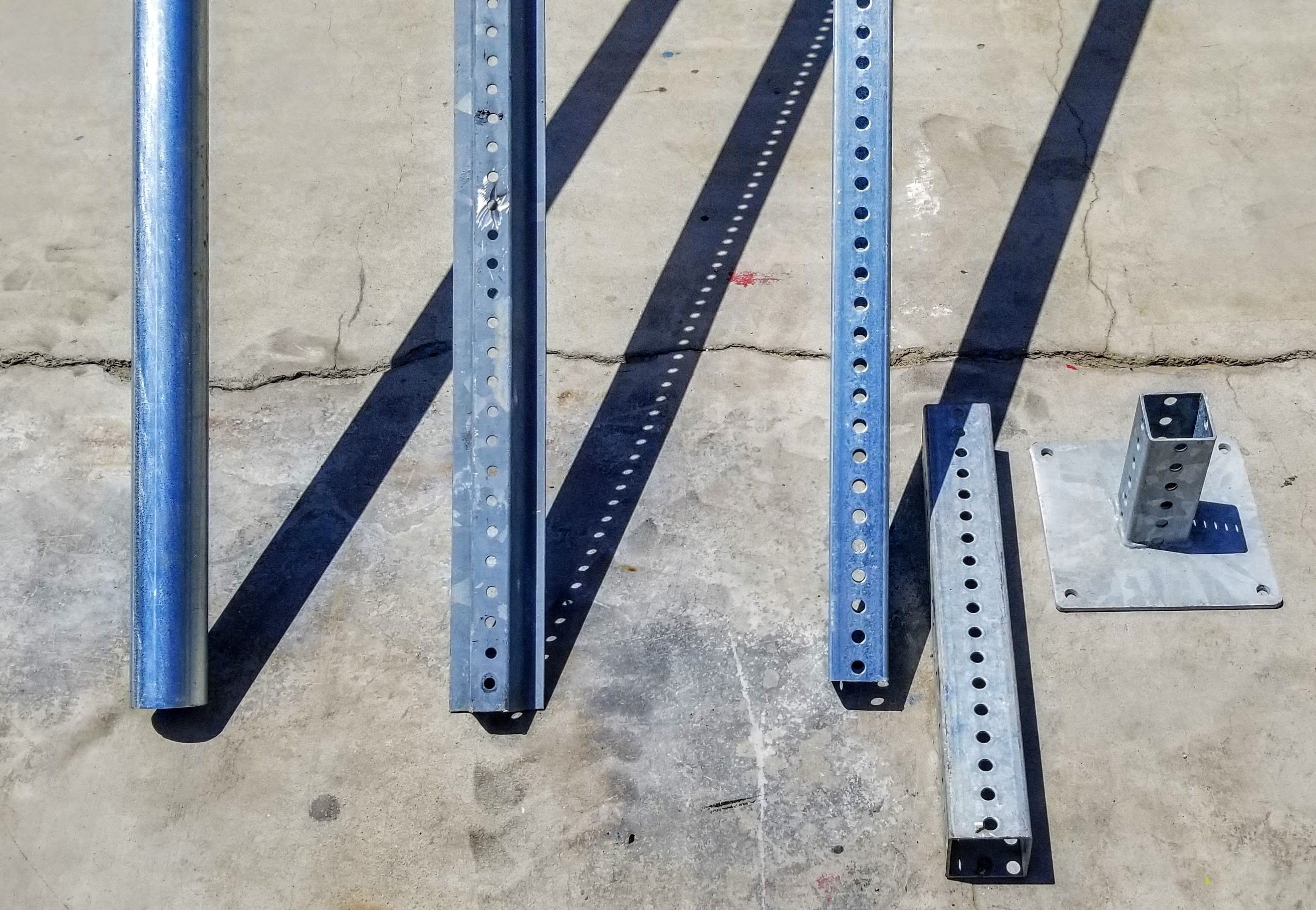 Sign Hardware Options Available
When it comes to sign hardware there are two basic considerations. Standard mounting hardware and theft deterrent hardware. Although its more expensive to use the theft deterrent hardware, it does create a very difficult barrier for someone stealing your traffic and parking lot signs. It is also important to keep in mind that even though the hard ware is called theft deterrent if someone wants the sign bad enough they can still get it. It just can be done easily with a screwdriver like standard sign hardware is installed. Sign hardware comes in many options as far as mounting a sign goes including post, pole, fence, wall and others.
Steel Bollards Removals, Installations & Repairs
We also offers a full line of steel bollards for both interior and exterior purposes. All of the bollards we install are made of 100% steel and installed to last and look good for a long time. If you have broken or bent bollards there is chance that they can be repaired. We are a fully licensed and insured steel bollard installation contractor. Need bollards painted or repainted? We offer high quality polyurethane coatings that will not dull from sunlight that can be applied by spray or roll methods.
4" Bollards
6" Bollards
8" Bollards
Special order
Crash Barriers
Removable Bollards
Lockable Bollards
Custom fabrications available
No matter what your bollard project involves, Empire has you covered. We can order, deliver, and install high quality, long lasting bollards for your project. Give us a call and one of our estimators will meet with you to discuss your options for your project and help you to make the best decision possible.
Please refer to our FAQ and Glossary pages if you see any terms or services that you are unfamiliar with.