Temporary Paint Decals Designed to Observe Outdoor Social Distancing
Posted on August 07, 2020 by Rafael Cantillo
Over the course of less than a year, the term "social distancing" has become one that most people across the world are accustomed to. Social distancing (sometimes called physical distancing) is the action of keeping a safe distance between yourself and people who are not from your household. To reduce the spread of COVID-19, it is recommended that all people stay at least six feet away from people who don't live in your household in both indoor and outdoor spaces.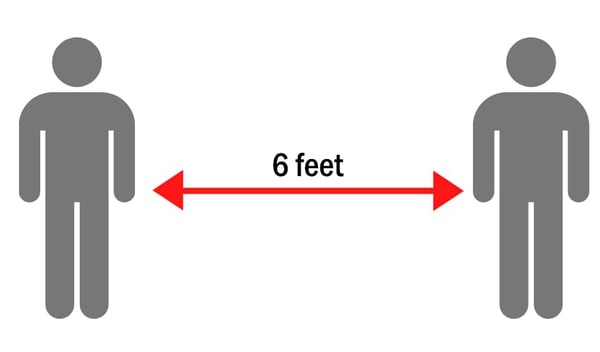 As Southern California businesses, retail centers, and schools reopen, owners are finding new ways to remind customers and visitors to practice social distancing while indoors. Signs, floor paint, and decals serve as reminders of safe distances between visitors. Unfortunately, safety in public parking lots has been widely ignored. As Stay-at-Home orders relax and the nation's schools begin to reopen, business owners and officials need ways to observe social distancing in parking lots and outdoor spaces.
Stenciling Services for Social Distancing Outdoors
Parking lots are typically designed to allow the maximum number of vehicles to fit in a limited space. However, this spacing doesn't provide adequate space for social distancing. As Stay-at-Home recommendations are lifted, parking lots are becoming busier and potentially exposing groups of people to dangerous germs. When schools and colleges begin admitting students, many people will be forced to load and unload vehicles at the same time. Without rules and reminders, this could be a chaotic time for administrators overseeing public parking lots.
During this changing time, most businesses need a temporary solution to guide customers and visitors to observe social distancing practices outdoors. Signs, decals, and paint striping can help drivers understand new ways to use public parking areas while still avoiding the spread of germs. While most businesses and public facilities can't afford to make permanent changes, temporary rules need to be observed. For this reason, Empire Parking Lot Services is supplying customers with temporary paint and decal options.
Temporary Paint for Social Distancing in Parking Lots
Parking lots are designed to provide parking for as many people as possible. These typical parking lot designs put drivers and passengers in very close contact with one another as they enter and exit vehicles. To protect local residents, many owners of public parking spaces need a temporary solution to enforce social distancing practices recommended by the CDC. Empire Parking Lot Services is working to meet this need with the application of temporary paint designed for asphalt and concrete surfaces.
Temporary paint will allow businesses and other public facilities to create professional parking lot designs that enforce social distancing. As the need for this change fades away, the paint can be removed and the parking lot will resume normal use. Temporary paint washes away cleanly, leaving your parking lot as good as new.
Application of Temporary Paint
The application of temporary paint for your school, business, or warehouse is simple. A crew arrives to apply temporary paint just like any other striping project. A temporary parking lot design is striped to your specifications. The paint looks and reacts like the permanent paint you're accustomed to, but can be completely removed when you're ready. It's important to note that while the product adheres well to concrete and asphalt, it's not recommended for soft surfaces like pavers or brick.
Removal of Temporary Paint
For best results, temporary paint striping should be removed within a week or two of the initial application. Removal is simple with the assistance of a pressure washing team. While this product is completely removable, it's best to remove temporary paint during cooler temperatures or evening hours. To remove the paint, the pressure washing crew applies a chemical to the painted area. The chemical spray is allowed to sit for 30 minutes, and is then washed away. While the product is biodegradable, you can expect waste water to be collected, as is typical when water is used in conjunction with any chemical. Once the temporary paint is removed, you can expect to see clean spaces where the stencil was placed. However, these stripes blend back into the surroundings over time.
Additional Notes About the Use of Temporary Paint
It is recommended that the work area is cleaned before temporary paint is applied to avoid excess tracking of existing dirt, oils, grease and other substances. Existing substances may permanently stain the surface of temporary paint stripes.

Mild wear and abrasion of concrete and asphalt may be noted after temporary paint application and removal. This is temporary and will fade with time and wear back into surrounding materials.

Sweeping, blowing, or power washing should be used to maintain clean striping on your parking lot.
Need Help Preparing Your Parking Lot for Reopening?
As a business owner or manager over a public area, you have a responsibility to protect your customers, guests, and visitors. While there are many indoor solutions that help everyone remember the rules of social distancing, it's easy to forget these practices outdoors. At Empire Parking Lot Services, every member of our team is dedicated to helping you find the best solutions to challenging issues you face in your parking lot, warehouse, and other concrete or asphalt spaces.
As you navigate new challenges during this time of uncertainty, we're here to help you support your customers and guests in the safest ways possible. Our experienced team has been serving the Southern California area for over a decade, and we're experts in the area of parking lot codes and local compliance. In parking lots, temporary solutions must still be safe solutions. When you call Empire Parking Lot Services, you can expect to get professional results that meet the unique challenges you face with your limited parking lot space.
As Southern California businesses and schools reopen, it's important to observe social distancing practices outdoors as well as inside. Empire Parking Lot Services is prepared to help. If your business, public parking lot, or warehouse needs a temporary solution for social distancing, get in touch today. Our friendly staff is prepared to listen to your unique needs and offer advice about the best solutions for the materials you use.
For more details on social distancing guidelines, click here.
Share