Product Spotlight: Sealmaster Liquid Road
Posted on August 21, 2020 by Rafael Cantillo
If you manage a large, commercial property, you have a lot on your plate. From interior maintenance to landscaping concerns, there's a lot to look after. Sometimes it can feel like the parking lot is just one more thing that needs your attention, but your business's parking lot is an extremely important marketing tool. The parking lot is often the first thing your customers see. It's their first impression of your business.
Fortunately, asphalt pavement, which is used in approximately 85% of parking lots across America, is long-lasting by nature as long as you provide periodic care. Part of that routine maintenance should be the application of SealMaster Liquid Road.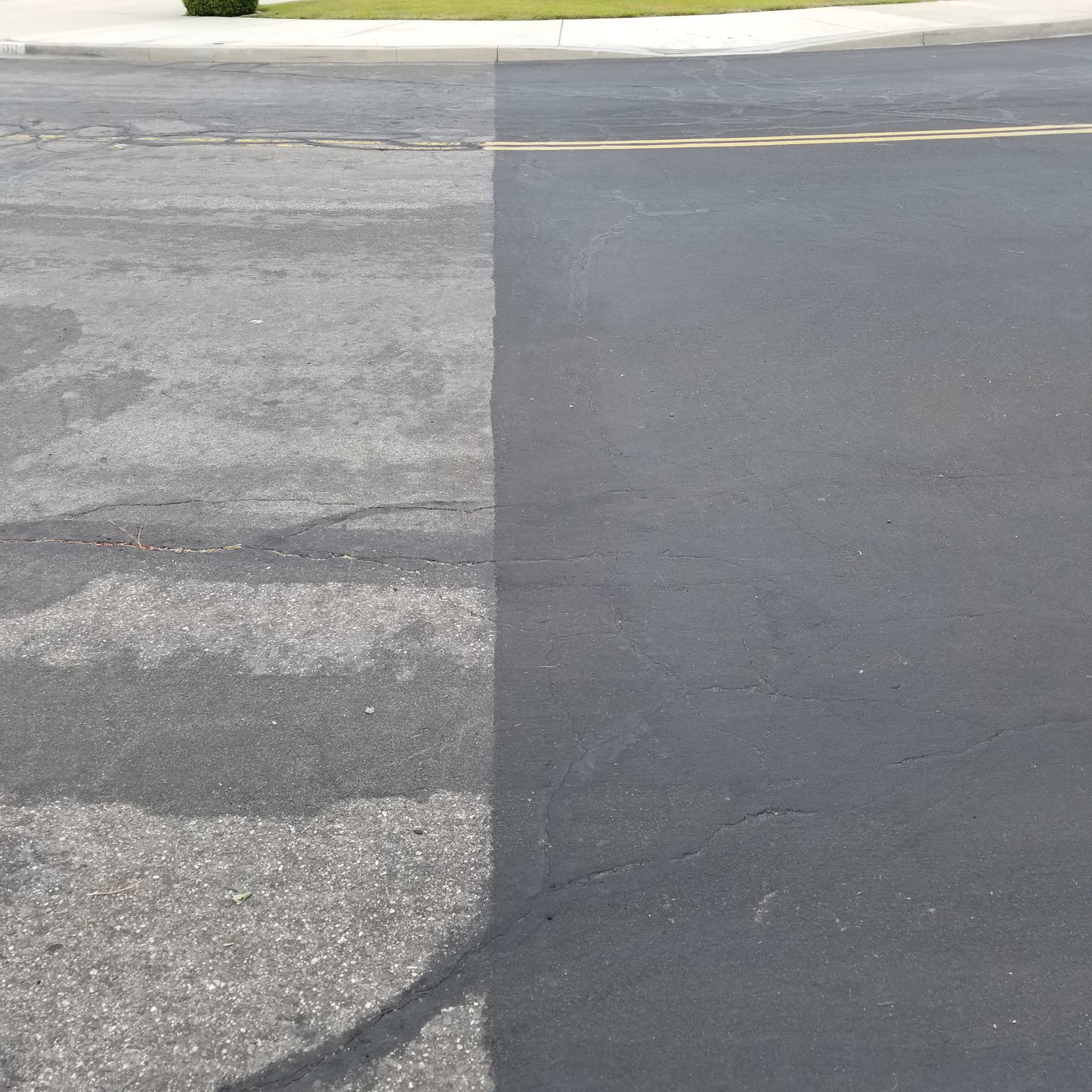 Why Asphalt Maintenance Matters
Different regions of California experience different challenges when it comes to the weather, and each has a radical effect on the longevity of your asphalt pavement. Northern California experiences a higher level of precipitation in the form of both rain and snow. Here in Southern California, the problem is heat coupled with water damage. Dry, arid weather can wreak havoc on your parking lot's surface, causing cracks and imperfections to emerge. Rain water can then penetrate the surface, causing further damage and erosion. Over time, those cracks can grow and spread, becoming larger issues, such as potholes, further down the road.
With proper routine maintenance and high-quality products like SealMaster's Liquid Road, you can easily extend the life of your asphalt surface by many years.
What is SealMaster Liquid Road?
Liquid Road is a specially formulated asphalt emulsion designed to repair, replenish, and extend the life of your asphalt pavement. Emulsions consist of two different liquids that do not readily mix with one another. The first liquid does not dissolve into the second, but instead the two co-mingle together as separate, spread-out droplets. With emulsions, additional agents or chemicals - called "emulsifiers" - are used to get the two liquids to spread more evenly. Because asphalt is composed of oil-based materials, the emulsion is a careful balancing act that keeps the oil and water evenly spread rather than repelling each other as they normally do.
With Liquid Road, however, the emulsifying agents are what make this such a distinct and powerful asphalt pavement coating. The Liquid Road emulsion is composed of asphalt reinforced by minerals and fibers, which are then blended with special polymers to add the right mix of durability and flexibility to the pavement's surface. Liquid road also uses a proprietary surfactant that helps the emulsion adhere to the existing surface.
This unique blend of components works together to form an asphalt surface sealant that adds strength, longevity, and resilience to your parking lot's pavement.
What are the Advantages of Using Liquid Road?
Even the best laid stretch of pavement requires routine maintenance to keep it looking fresh and presentable to incoming customers. Factors such as weather and climate affect how often maintenance should be performed, as does the amount and intensity of the traffic that regularly passes through. Over time, the pressure from vehicles driving over the pavement's surface wear it down, necessitating repair. If you don't make those repairs quickly, gouges, cracks and potholes can balloon into a much larger problem down the road.
Applying Liquid Road to your parking lot can help alleviate that damage. Liquid road acts like skincare lotion. In the same way that a high-quality skincare product can help you heal blemishes and damaged skin, Liquid Road's high-quality asphalt emulsion helps to heal your pavement's surface.
Liquid Road helps to restore the binders in your pavement's asphalt. Binders are the agent in the initial mixture that holds all the elements together. Asphalt concrete acts as the binder in an asphalt parking lot.
Over time, oxidation and routine wear from moisture and weather conditions wear down the binders in your pavement, causing it to crack, loosen, and eventually break apart. Liquid Road nourishes the asphalt concrete back to full strength. Additionally, Liquid Road creates a slip-resistant road surface that counteracts the oil-based asphalt, making for a safer roadway in the process.
Don't count out the aesthetic value of a well-maintained parking lot, either. Liquid Road adds a deep black color to your pavement's surface that makes it look like it was just poured yesterday. Against a vivid, black background, road signs and parking lines are crisp and easier to see, adding to the overall curb appeal and safety of your property. As an added bonus for those who live in the colder climates of northern California, Liquid Road helps to melt snow and ice quicker, while offering water and UV resistance in the process.
Application Procedures
In order to adequately apply the SealMaster Liquid Road pavement coating, you must prepare both your asphalt mixture and the surface you intend to coat. The first step is cleaning off your pavement's existing surface. Make sure the parking lot is free of dirt, dust, and loose debris before beginning the application process. You should also pre-fill any major cracks or gouges with a separate sealant product on a spot-by-spot basis before beginning the project.
Next, you must prepare the Liquid Road mixture. It should be noted that one gallon of Liquid Road will cover somewhere between 55 and 66 square feet per coating. For optimal coverage, multiple coats are recommended. Make sure to adjust your material needs to the size of your property beforehand. In order to convert the mixture into a usable form, you must prepare a slurry seal using the Liquid Road product, water, and asphalt aggregate. To mix, use 400 pounds of 2-30 mesh AFS (American Foundry Specification) for every 100 gallons of Liquid Road.
Liquid Road serves as a high-quality, low-cost alternative to other slurry seals on the market and is intended for rough or aged asphalt edges.
Assisting With Your Next Sealcoating Project
As a property owner, facility manager, or maintenance contractor, you have your hands full on a daily basis. Between running your business's operations and general property upkeep, there's little time left over. Applying SealMaster's Liquid Road to your property's parking lot takes it out of the equation by extending the life of your pavement's surface for years to come.
While the product is easy enough for any general contractor to mix and apply on a small scale, a larger parking lot requires a professional's touch. Contact Empire Parking Lot Services at 714-633-0300 to have our experienced staff assist you with your next sealcoating related project.
Share
Topics