How Long Does It Take For Warehouse Epoxy Striping To Dry?
Posted on June 11, 2021 by Rafael Cantillo
Not only are industrial and commercial floor paintings aesthetically appealing, but there's also something incredibly satisfying about a well-applied warehouse epoxy striping.
And warehouse epoxy painting isn't only a versatile floor coating; it's gratifying. For one, a well-chosen and well-applied epoxy striping provides superior hardness in different colors, with a relatively long lifespan and low maintenance.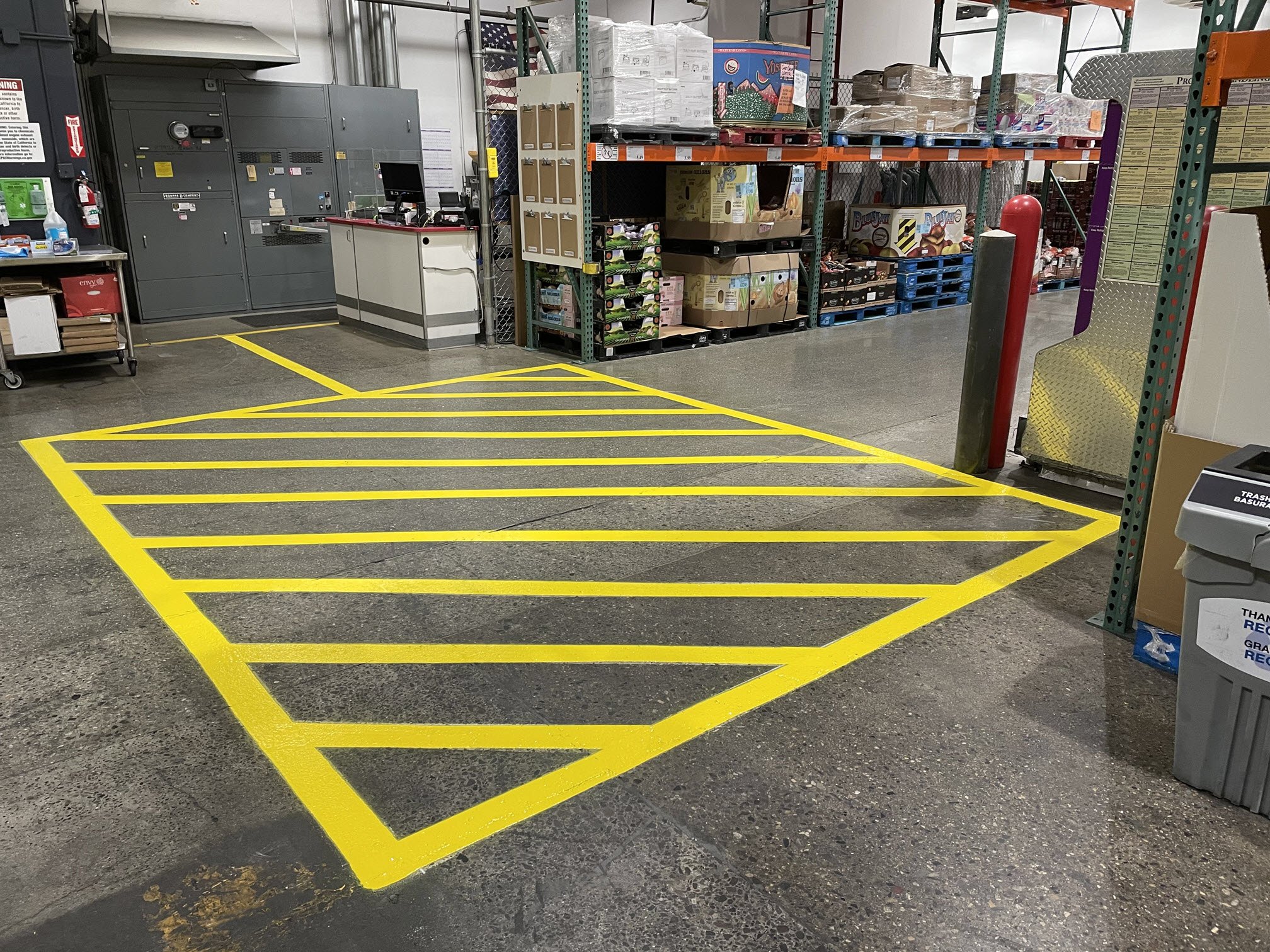 (Costco, Laguna Niguel)
Although epoxy striping is typically applied to protect and aesthetically improve concrete floors, it's an overall project which, if done right, can transform your warehouse surface in unique ways.
Maintaining Your Warehouse Floorings
A well-maintained warehouse space entails regular and proper repainting of asphalt and stripe lines. Applying fresh, new paint on your warehouse striping may be done during routine warehouse repairs and maintenance.
However, this is not a rule of thumb and can still be done as an independent project. This is because your warehouse flooring is subject to more activity than other areas, making it more susceptible to wear and tear, hence the need for constant maintenance and refurbishment.
So, whether done as complete maintenance or as a standalone project, you would certainly like to know how long the epoxy striping paint will take to dry out on the asphalt before your business can resume normal operations.
Obviously, you will have to temporarily shut down the warehouse to allow the project to complete, up until when the epoxy coating is fully dry before resuming operations. The longer it takes, the longer your warehouse will remain off-limits to staff and customers.
That means losing business for the entire period, and the last thing you want is the loss of more business. So it's good to know how long you'll need to wait for the epoxy coating to dry out. This helps you plan before embarking on the project. It also enables you to choose the specific days and hours to carry out the painting project.
These may be a weekend or public holiday, which could be off-peak hours, and so, you could post little to no losses.
Factors That Impact Dry Time
Below are factors determining drying time that you should carefully consider before doing a paint job on your warehouse floors.
Surface Temperature
Ideally, paint, whether on the interior wall, exterior wall, or floor, tends to dry faster under warm temperatures than cold weather. That's why most property owners and managers choose to carry out remodeling projects in spring or summer. It makes more sense, especially when using water-based paint.
With this type of paint, you'll need to wait for the water that's mixed with paint to evaporate before the paint can begin to dry thoroughly. Therefore, it is not recommended to apply a fresh coat of epoxy striping in cold weather or if the temperatures are less than 50 degrees Fahrenheit.
Under such weather, the paint is highly likely to remain wet or take much longer to dry than it would when the temperatures are warmer or on a sunny day. The ideal time to apply new epoxy striping on your warehouse surfaces is on a sunny day with temperatures as high as 70 or 80 degrees Fahrenheit.
Typically, the average temperature in South California is 60 degrees Fahrenheit. This is still ideal for a paint job. However, it will take a little longer, about 24 hours or more, than if the temperatures were slightly higher. The bottom line here is, the more favorable the weather, the faster the epoxy coating paint will dry out.
Moisture
Once the concrete slab is poured out during floor construction, it loses moisture through osmosis. This process can continue long after the project is completed. If your concrete slab has any leaks, the moisture will find its way out of the concrete slab floor. If you don't consider this fact when applying epoxy, it could be a disaster.
The more moisture is released through the slab, the more it gets trapped beneath the resin layer of the epoxy, and the more it will accumulate. The result is damage to the epoxy finish, and in extreme cases, damage to the slab. Mold, mildew, discoloration, and bubbles are a few examples of damages you'll experience on your epoxy surface finish due to excessive moisture.
Therefore, excess moisture may hinder or derail the drying process of your epoxy coating. The situation is further compounded if the weather is humid since the water mixed with paint will take longer to evaporate.
The key takeaway here is, ensure that there is a sufficient moisture barrier underneath your warehouse concrete slab floor to suppress moisture seepage. Also, dry, sunny, and windy days are perfect for applying a fresh coat of paint on the asphalt.
Number of Coats of Epoxy Striping Applied
Another factor determining how soon your asphalt will dry out is the number of coats of epoxy paint applied to it. Generally, two coats of striping epoxy paint are considered ideal for achieving the best transformation for your warehouse stripes. For instance, your contractor may apply a single coat of sealant on the floor or asphalt.
To make the stripes stand out, two more layers of fresh paint will need to be applied. Contrary to popular belief, a single thick coat of paint on the asphalt can be a disaster. Not only will it crack up sooner than expected, but it can also disintegrate within a short time.
Therefore, you should work with a reputable contractor who is experienced in warehouse epoxy painting and understands the procedures and number of coats of paint required for a particular asphalt. This will save you the risk of redoing your job due to shoddy work. As much as you want your epoxy stripes to dry out faster, you also need to receive value for your money and quality work.
Air Circulation
Air circulation plays a significant role in the drying process of a freshly done epoxy painting. The more the air circulation, the faster the water in the paint mixture will evaporate and the faster the paint will dry.
So, these three weather elements, sunshine, humidity, and wind, will influence how fast your paint dries out. The critical takeaway is to do your epoxy paint job on a sunny, dry, and windy day. The good news is that this is the typical weather in South California.
Time It Takes For Epoxy Striping To Dry Out
If all the above-mentioned factors are present and remain constant, then the average time it will take your painting to dry is 2-4 hours. However, the surface should be ready to embrace light foot traffic in 6 -8 hours.
We recommend that you give your warehouse epoxy painting at least 12 hours before it can handle heavy items and a minimum of 2 days for it to cure fully before it takes in heavy vehicle traffic.
We're Here To Help
At Empire Parking Lot Services, we understand that time is of the essence and that your warehouse should resume operations as soon as possible. We also understand that your warehouse aesthetics reflect your business and play a crucial role in customer attraction and retention.
That's why we offer flexible, timely, and expertly done painting services at affordable rates. We can work within your preferred schedule, be it in the evenings, weekends, or public holidays.
Contact us at 714-633-0300 to have our experienced team assist you with your next warehouse striping project or learn more about our services.
Share