What Advantages Does Concrete Paving Have Over Asphalt?
Posted on September 25, 2020 by Rafael Cantillo
When most people think of pavement, they think asphalt. You may have noticed that many driveways in residential areas are instead made of concrete. If you've ever wondered why homeowners frequently find concrete is preferable to asphalt, this post is for you. Concrete's utility isn't limited to residential areas, however. Like asphalt, concrete can be used for paving parking lots and roads. Let's look take a closer look at the benefits of concrete vs asphalt and how they extend beyond the home.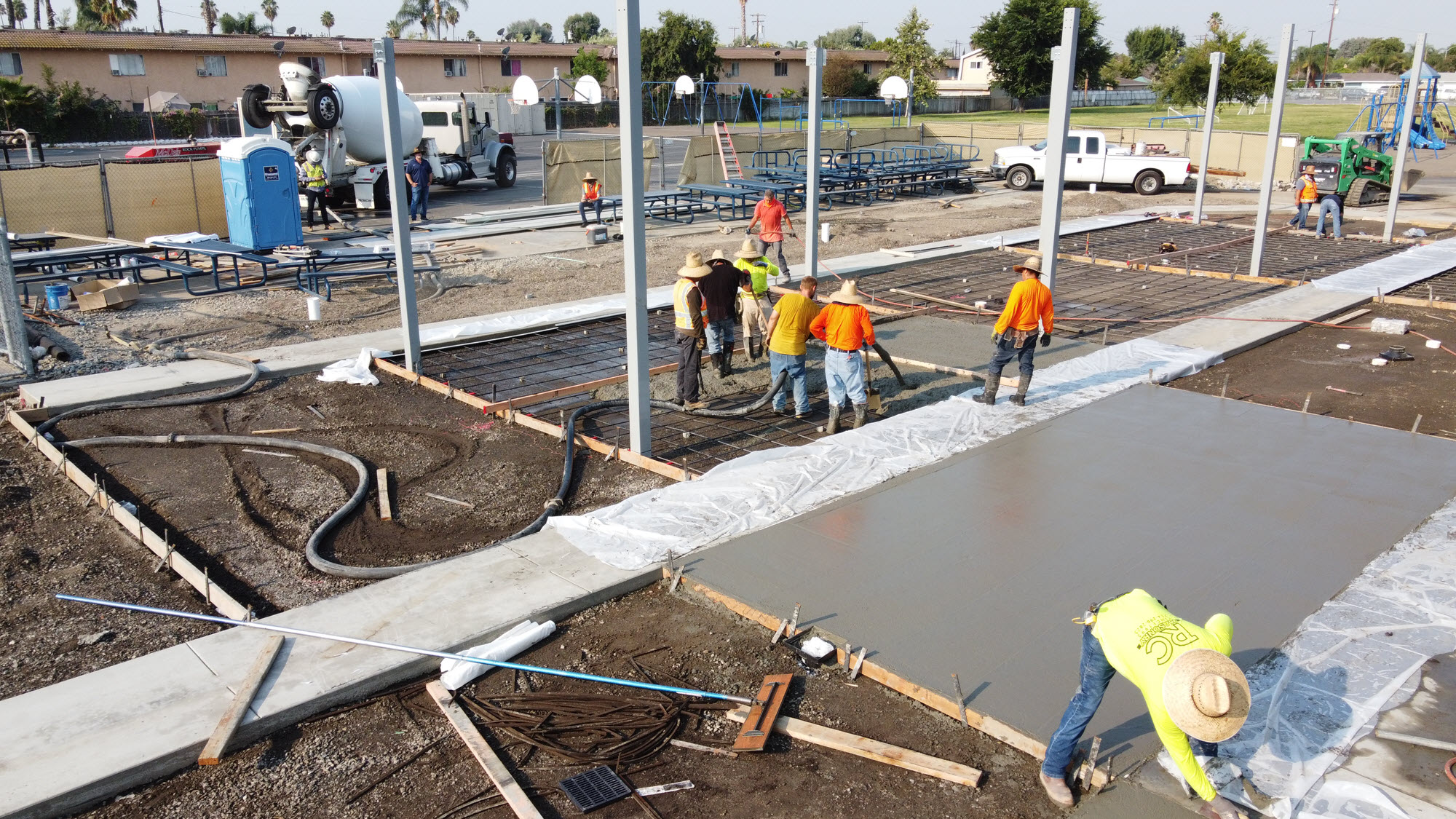 Aesthetics
Perhaps it's because we associate it so heavily with roads, or perhaps it's because of its drab coloring; whatever the reason, asphalt is simply not considered a very attractive building material. Concrete's finer grain and lighter color offers a more welcoming feel that most people find preferable. In addition, concrete can be colored with dye and textured with exposed aggregate for a much wider range of appearances than asphalt can. The result is a building material that not only looks better by default, but can be customized to match the decor of any environment asked of it.
Light Properties
Asphalt's dark color has a disadvantage beyond looking less attractive. Darker colors absorb more light, so areas that are paved with asphalt require much stronger lighting in order to maintain the same light level that lighter materials like concrete would need. In fact, asphalt's lighting requirements are up to 33% more than those of concrete. This results in a significant increase in energy costs over the life of the material for areas where lighting is a concern. Absorbing all of that light means that asphalt also retains the heat that goes with it. Although that can be fine in the winter, asphalt gets uncomfortably hot in the summer months.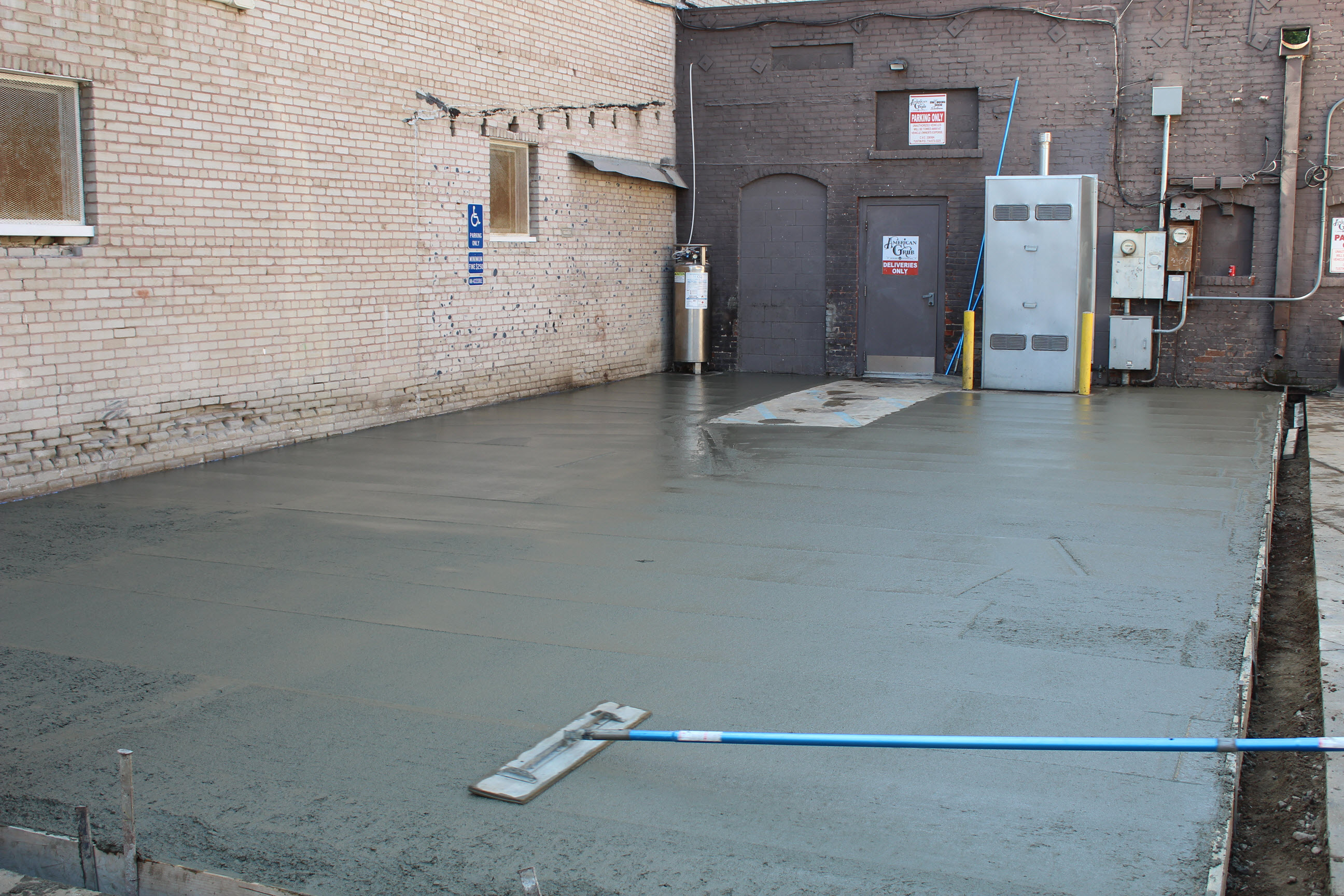 Durability
Asphalt is cheaper to install, which is why it is frequently used for roads, where the amount of material would be prohibitively expensive with concrete. The downside to this initially more affordable price is the lifespan of the installation. Concrete pavement will last around 50% longer than asphalt pavement will, assuming both surfaces are properly maintained. There are a couple of reasons that concrete's life cycle is longer than that of asphalt. While they all add up to the combined benefit of decreased maintenance cost over the life of the surface, they also bring individual advantages that add to concrete's attractiveness as a paving material. Let's look at some of them.
Weather Resilience
Asphalt is a flexible material. Flexibility sounds good, until you realize that the softness inherent to flexible materials makes it easier to damage them. As asphalt gets warmer, its binder gets even softer. Although both products can benefit from the use of sealer, this softness makes asphalt much more vulnerable to the effects of weathering than concrete is. As a result, rutting and cracking are more common in asphalt than in concrete. Concrete's permanent hardness reduces the maintenance costs while increasing the lifespan.
Strength
Weather isn't the only thing that will wear down a flexible material like asphalt. Heavy vehicles also take a hard toll on it. Concrete's harder material makes it an almost obvious choice if your property will play frequent host to larger vehicles that would result in near constant repairs on an asphalt surface. This is one reason why you'll frequently see concrete used as a paving material for loading docks, heavy equipment storage, or other industrial applications where the most frequent traffic comes from larger vehicles.
In addition to the weight of the vehicles, power steering on the vehicles can easily damage the surface of the asphalt over time, especially when the wheels are turned before the vehicle starts moving and the friction is high. Concrete can suffer from scuffing under such conditions, but is much harder to damage.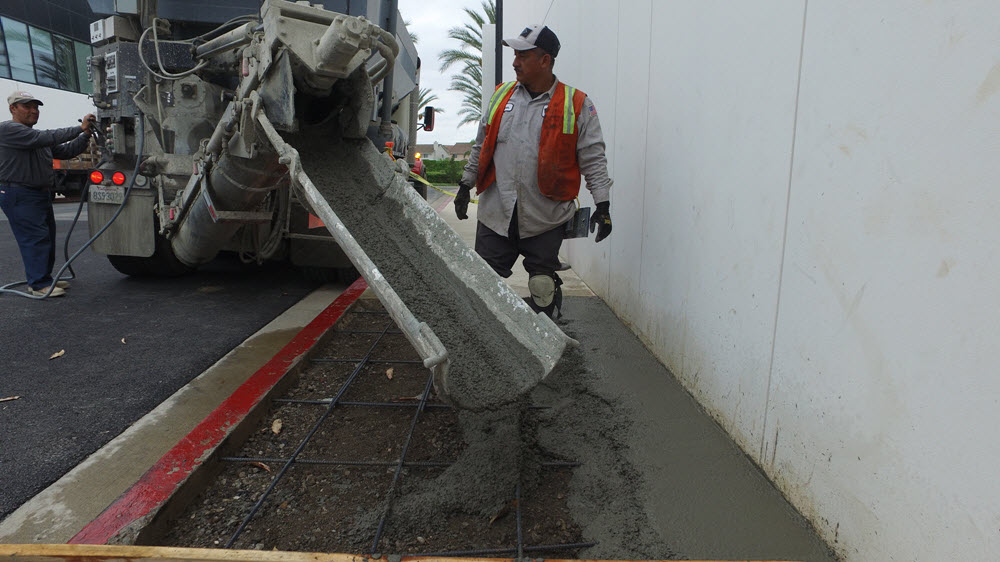 Environmental Impact
Asphalt is made using a large amount of petroleum projects. Although concrete is not created with petroleum products, it does require a significant amount of energy to source the materials. The initial installation of the two products is hard to judge based on environmental impact. The picture becomes a little clearer, however, when you consider that you will have to perform much more maintenance on asphalt over the years. The more frequent use of sealer and additional asphalt for repairing potholes or cracks will all add up to a greater environmental impact over the life of the product.
Cleanliness
The softness of asphalt has another disadvantage. This is especially true when the material is first installed. The petroleum products that asphalt is made with are likely to be tracked into buildings and any other surface. Long after installation is done, the hot summer months will soften the binder and, once again, result in it being tracked on surfaces from the shoes of pedestrians. Concrete does not have these problems. Once it is cured, concrete can be safely walked on without fear of ever contaminating other surfaces.
Resale Value
We've already listed many great reasons to choose concrete over asphalt. Because of all those great reasons, our final reason is resale value. If you own your property and find the need to move to a new location, having concrete pavement instead of asphalt will pass on many of the benefits listed to the new owner. This means that you'll be able to get more money from the sale when the time comes to move on.
Conclusion
Concrete has many advantages over asphalt, but the resilience of asphalt as a paving material shows that there isn't a simple answer as to which material is preferable. Like many things in life, the option that suits you best will depend on your specific needs. At Empire Parking Lot Services, we have experts in both concrete and asphalt paving. Because we provide both services, you can expect a straight and honest answer from us about which would better suit your needs.
If you have a big paving project coming up and need help deciding between concrete and asphalt, give us a call at 714-633-0300 or contact us, and we'll be glad to have someone help you make an informed decision. Because we are a full-service paving company, you can also feel free to contact us with any maintenance or repair needs you may have.
Share
Topics
Related Posts