Asphalt Paving & Pumpkins: Asphalt Repair in The Fall
Posted on October 19, 2011 by Rafael Cantillo
Asphalt Repair for the Fall Season | Southern California
Although Southern California enjoys warm weather and mild winters, there are still many
asphalt repair
factors to consider in the fall, if you are a property manager or owner. With the summer sealing season wrapping up, many property owners and managers should be looking at their properties for winter repairs. These are the repairs that should be done prior to the winter wet weather. Below is a list of the services that managers and owners should focus on.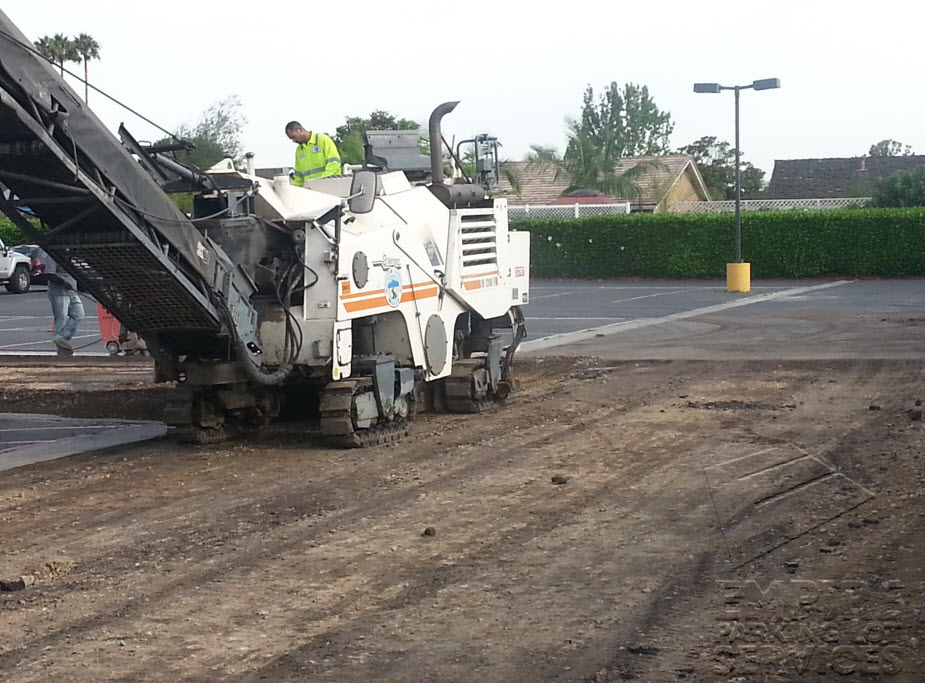 Fall Asphalt Repair Services to Focus on
Crack Filling / Crack Sealing:

Crack filling should towards the top of the list of priorities for your parking lot. When it comes to repairing these cracks the method used depends greatly on the cracks density and the edge deterioration, but with the crack filling technology available today, asphalt crack repair can be a fast and easy repair process with very little inconvenience. That is if you have the right contractor to get the job done properly. The main purpose of crack filling is to reduce the amount of water that can seep below the surface of your asphalt, and destabilize the soil that supports the pavement. When water is able to penetrate the asphalts surface it can lead to much costlier repairs down the road. This is the primary reason you want to be sure to get it done before the rains begin.
Pothole Repair:

Just like crack filling, pothole repair is a very necessary service that keeps water from undermining and destabilizing your asphalts integrity. Sinkholes and heavy asphalt depressions are caused when water enters your sub grade and starts to destabilize the surface. Like asphalt cracks, potholes are another point of entry for water to cause this type of damage. Set up a meeting with one of our estimators to walk your property and advise you what types of repairs you need to help maintain the investment you have made into your parking lots asphalt. Pothole repair is very affordable type of asphalt repair and shouldn't be neglected.
Parking Lot Striping:

Pavement marking lines and stencils can make a significant contribution to highway and parking lot safety, especially in conditions of poor visibility at night or rainy driving conditions. Freshening up parking lot striping and applying glass beads to your striping is one of the most cost-effective ways to increase safety and visibility in these conditions. When it's rainy outside visibility can drop severely causing all kinds of trouble for drivers. This holds true in parking lots as well as roads and the freeways. Fresh parking lot striping with reflective glass beads can increase visibility dramatically and reduce car accidents as well, and not just in rainy weather, but at night as well.
Curb Striping:

When it comes to big impact for small investments very few services can hold a candle to curb painting. Fresh red painted curbs speak volumes about your parking lot and the businesses that manage them. They send the message to your customers that this parking lot is safe and in good order. Furthermore, they convey clear directions to your customers on what to do or what not to do in a parking lot, such as no parking, loading, or timed parking areas. With the combination of well painted curbs and a clearly stenciled message your customers are always clear on what is allowed or not allowed throughout your parking lot.
About Empire Parking Lot Services
When it comes to concrete and asphalt repair, Empire Parking Lot Services is your best choice for a Southern California paving contractor. Fully licensed & insured with years of experience, our staff and crews have the ability to see your projects through from conception to completion. Our list of satisfied customers grows each day and referrals are available on projects done locally and recently. At Empire Parking Lot Services we run a very transparent company. We blog our projects at least once a week, and well invite customers to speak with our past clients to get there feedback. On average we perform three parking lot service projects a day, so that gives you a lot of people to speak with. So call us, e-mail us, or just come see us. We have estimators available to get you a price on your asphalt or concrete repair related project today.
Feel free to call us toll free today at
877-760-2757
Share
Topics