City of Industry Warehouse Floor Striping & Cleaning
Posted on December 26, 2012 by Rafael Cantillo
City of Industry Warehouse Floor Striping
Project Size:
Warehouse cleaning, striping, stenciling and battery charging station coatings om a 100,000 sf.+ concrete tilt up located in City of Industry.
Project Needs:
Warehouse Cleaning, Warehouse Floor Striping, Acid Resistant Battery Station Coating, and Epoxy Number Markings.
Time Frame
:
One week for cleaning and striping of the lines. One week for the installation of the acid resistant battery station coating. Two days for layout and painting of the number, letters, and markings.
Job Description:
Several weeks of planning went into this project before the start of production. This included several site visits, plan changes, and different product test. Our customer was looking to get this project done without shot blasting. Normally we strongly recommend against painting concrete without prepping the surface first. However, their concern was that they didn't own the building, and blasting the floor might damage the concrete beyond what their lease allowed. With several test done ahead of time we determined that the floor could be painted with minimal prepping. We chose to do a heavy warehouse floor cleaning including degreasing with a light solvent added to the scrubber that aided the paints ability to bond with the concrete. No guarantee could be offered on this project but in the end we feel it was their best choice based on their needs and limitations. The actual project went down without a hitch. We first cleaned the warehouse and prepped it with method mentioned above. Once the concrete was cleaned, we proceeded with the layout of the lines. This particular layout was pretty straightforward. Long staging lines that where approximately 5 feet apart and 20 feet long totaling approximately 13,000 linear feet. Once the lines where laid out we started the painting portion of the project. All in all it took several days to get all of the lines down.
Parallel to this project was the battery charging station that was installed. This area was actually shot blasted out of extreme necessity. Battery charging stations are notorious for leaking acid that leaks onto the concrete, causing massive damage to the surface. Without blasting you really can't achieve the kind of bond required for an acid resistant epoxy to bond. The area that was painted was about 18' x 35' and required several coatings to achieve the finished product. This area in total took about three days to prep and install.
Lastly the customer added some numbers to be painted to help them identify their product locations. They required 2 different markings from us, including stacking area numbers, and aisle marker numbers. The stacking numbers were installed at 12" tall and the aisle markers were installed at 48" tall. We installed over 1150 locations of the stacking number, as well as 20 aisles marker locations. All warehouse markings were installed using 2-part epoxy designed to hold up against forklift traffic. This part of the project required about 2 days to install, and wrapped up the entire project which took about 2 and a half weeks.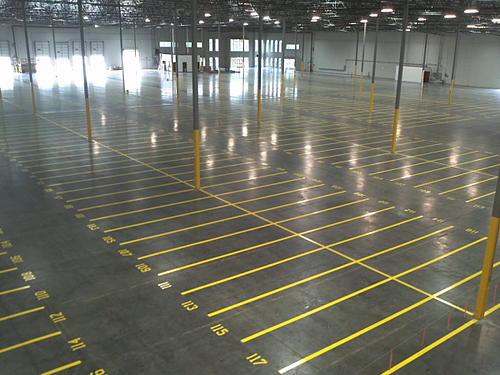 About Empire Parking Lot Services
Even though we go by the name of Empire "Parking" Lot Services, we are also the number one warehouse marking contractor on the entire West Coast. We have over twenty years of experience on warehouse floor striping and aisle marking projects, and offer a large group of related warehouse services as well. Our service division gives us the ability to provide fully managed installation services to all of our west coast customers. This includes our long lasting warehouse floor striping and floor coating systems, which have been used by many of the largest companies in the world. With customers such as Coke cola, Kimberly Clark, Fed Express, and Home Depot trusting Empire Parking Lot Services, there is no reason why shouldn't give us a call on your next warehouse marking project.
Share
Topics