Tesla Supercharger Station Culver City Westfield
This week Empire Parking Lot Services was contracted to layout and paint 12 stalls at a local Los Angeles mall for Tesla Motors. Normally a small parking lot striping project wouldn't even be a project that we would typically blog about, however this one ended up being a bit of a challenge and its Tesla so yeah pretty much the coolest company in the world.
About this Parking Lot Striping Project:

So as mentioned above this was a parking lot striping project located in Los Angeles California. Specifically it was a new "Supercharger Station" installation at the Fox Hills Mall in El Segundo California. Also known as Westfield Culver City at 6000 Sepulveda Blvd. Culver City. This project required us to prep and paint 6 charging stalls at 2 locations near each other. We also created a custom parking stencils for each stall and sealed the areas for a more durable outdoor finish. The project took several days to complete and we think it turned out pretty darn good. Now if we could just get our hands on a ridiculously sexy Model S to test out the new chargers we would be set!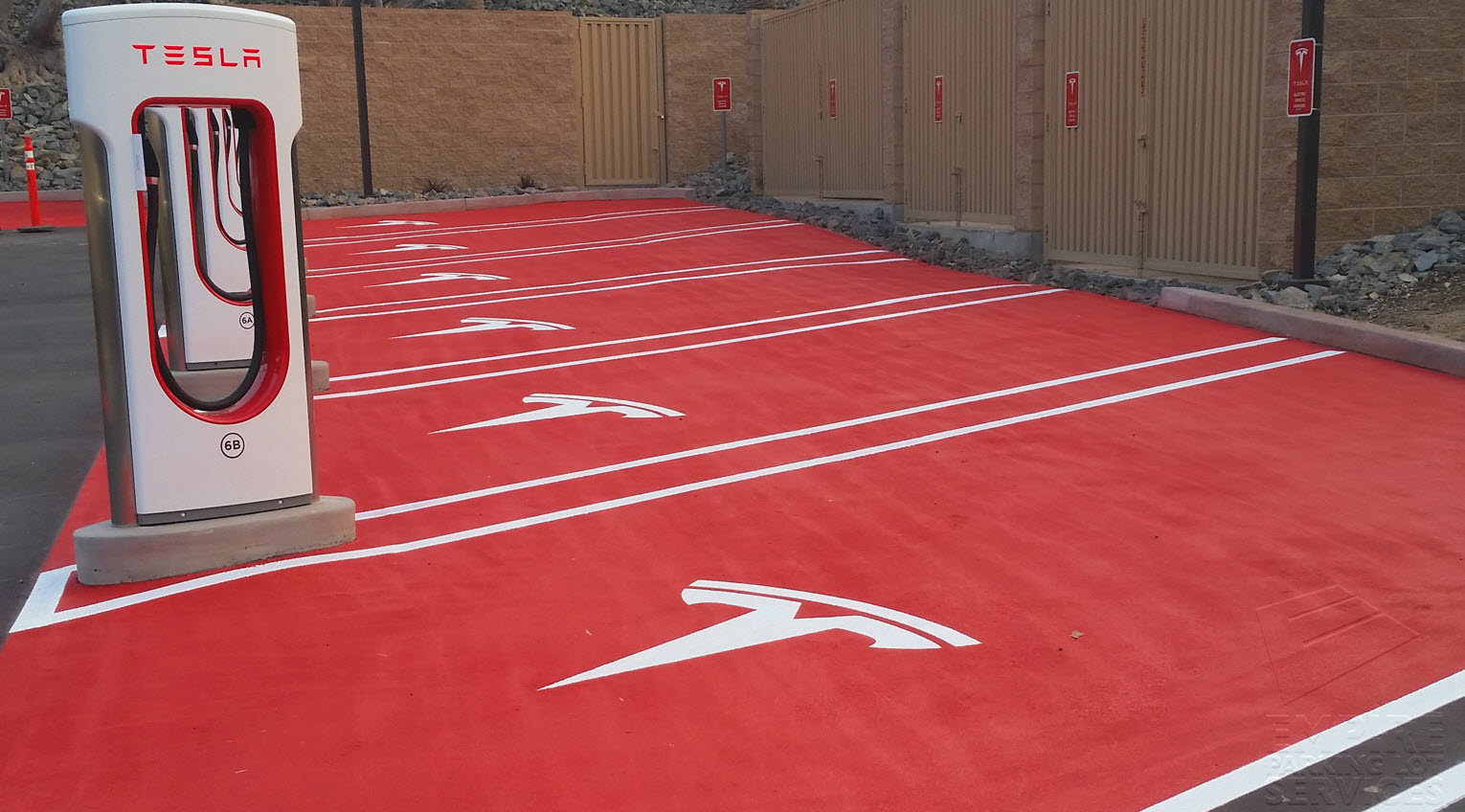 About the Traffic Paints Used:
This project was a bit of an experiment on painting asphalt surfaces. Traditionally asphalt is not painted solid because it's too soft to support paint for long periods of time. Even parking lines on roads and freeways are not typically driven on, as much as driven over for short periods of time. When Tesla came to us with this concept we agreed to give it a try.
Although we have no way of knowing how long the paint will hold up, we had some ideas about using a couple of newer products that we have had luck with in the past. The first product we applied was the red background paint. This product is a very high end acrylic traffic paint made for parking structures and parking lots. In between the two coat application of red paint, we applied a non slip additive that adds texture to the surface to reduce any chances of slipping on the painted surface when it gets wet. With the red paint completed and the anti slip installed, next we moved onto painting on that iconic Tesla logo, we had a custom stencil created out of light aluminum for this and any future possible Tesla Motor projects. Lastly, we painted did the actual line striping for the parking stalls using a white waterborne acrylic. Empire Parking Lot Services has been working with Tesla Motors now for over 4 years and we can't say enough about how much we appreciate the opportunities that they have given us. They are truly an amazing company and truly wonderful people to work with.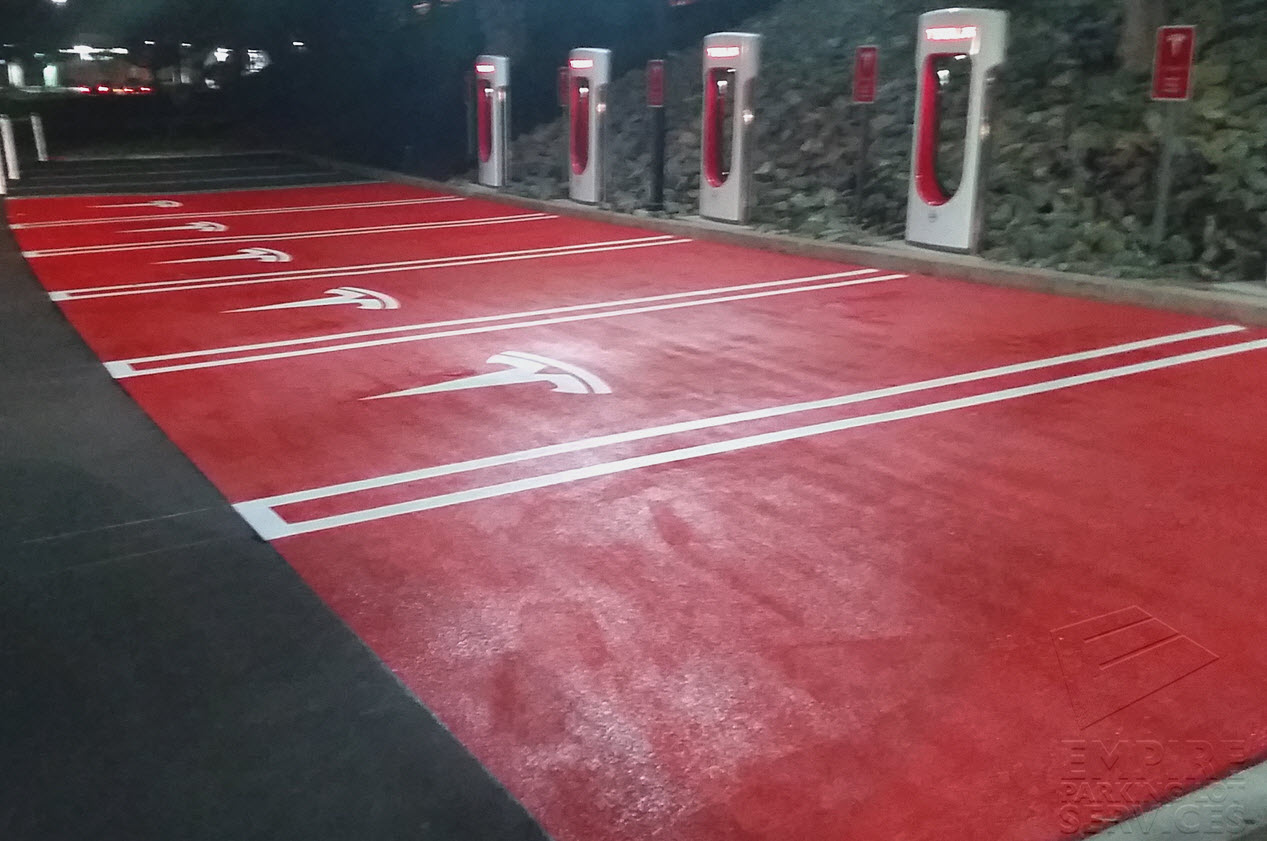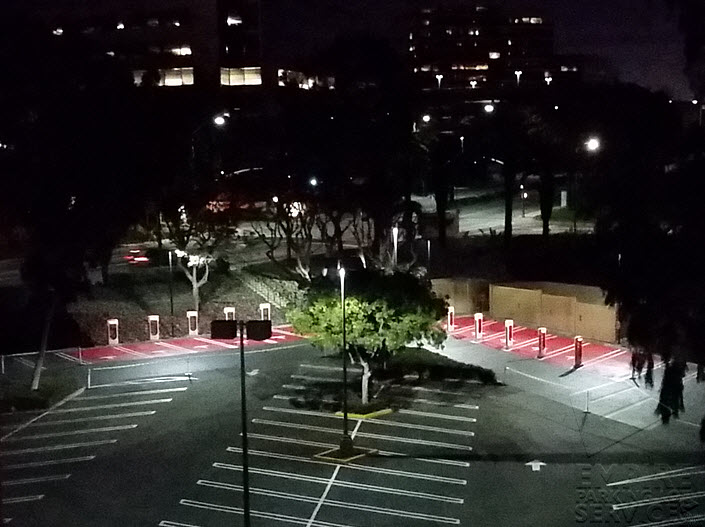 About Empire Parking Lot Services:
Empire Parking Lot Services is Southern California's number one rated paving contractor. We specialize in asphalt and concrete repair and maintenance. We only offer the very best in products, materials, and skilled labor when it comes to your project. We service all of Southern California including Orange County, Los Angeles, Riverside, San Bernardino, and parts of San Diego and Ventura counties. Please feel free to call Empire today if you have a parking lot maintenance project, we would love an opportunity to serve you today. Oh and by the way we are hiring!