LA Tackles Costly Concrete Sidewalk Repairs but then Passes the Responsibility on to the Home & Business Owners.
The city of Los Angeles recently announced it will enact a plan to repair every badly damaged concrete sidewalks within the city limits, spending a proposed $30 million a year over the next three decades to do so. Sounds great, right? Well, the catch is that when those 30 years are up, the responsibility for all future maintenance and repair of those public sidewalks will be placed in the hands of the adjacent property owners. In an article from the Los Angeles Daily News, the catalyst for this shift came from a recent lawsuit against the city by disability groups, who argued that the disrepair had become so extreme from decades of neglect by the government. It should be noted, however, that the current law in California (passed in the 1970s) actually states that the city is only responsible for sidewalks damaged by the roots of city owned and maintain trees. It has only been the status quo for the city to maintain the walkways when the funds are available, though not one that's been rigidly upheld.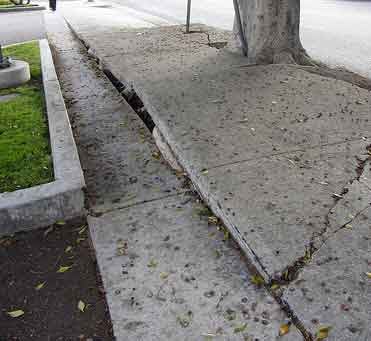 So what kind of financial impact will this decision have on home and commercial property owners, when the current estimated cost for concrete grinding alone is about $1,000 at one sidewalk site ? After the 30 years of city improvements has been completed, the Los Angeles government will be providing a "warranty" program which gives homeowners 20 years and commercial owners 5 years to have the city repair their sidewalk once at no cost, after which point the city will automatically fix and bill the owners if any repair work is neglected. According to the LA Times, this "fix and release" approach will also come with a rebate program offering 50% for those proactive owners who repair their adjacent sidewalks within the first 3 years of the program themselves.
But this still does not negate the fact that for the majority of hard working, average Americans, these extra costs will add up fast; and layer on top of the every day bills and expenses that can be a hard pill to swallow as it is. Even we at Empire Parking Lot Services will feel the effects; most of our employees are homeowners themselves who will eventually have to face the circumstances this decision will bring.
Some opinions seem to be that although this new ruling may be incredibly inconvenient, it will finally result in the restoration of about 4,600 miles of sidewalk repairs that need to be done. If the last 40 years have shown us anything, it's that the future integrity of these walkways may ultimately be in better hands with the community's owners than with the governing authority. But we can't help thinking, at what cost?