This time every year and for the last 5 years, Fidelity Investments has contracted with Empire Parking Lot Services to do a specialty striping project for a series of events held at California's prestigious Hollywood Bowl. The event is an employee recognition event and what they have us do is to create that famous Fidelity green line as sort of a half marketing / half actual directional piece, that tells the employees where to go for the next part of their event. It's totally great right?
The project consist of several mediums including removable striping paint(more on this below), 3M printed decals, as well as standard striping layout and painting services. So what we do is we layout and stripe the Iconic green line from one area to another throughout the Hollywood Bowl grounds. The great thing about this removable paint is that it can applied on one day and removed the very next day with little to no damage to the surface painted on, or disruptions to facility where we are working.
Read on to learn more about how we did this project, and how your marketing team can apply this fun and affordable process to your next corporate event.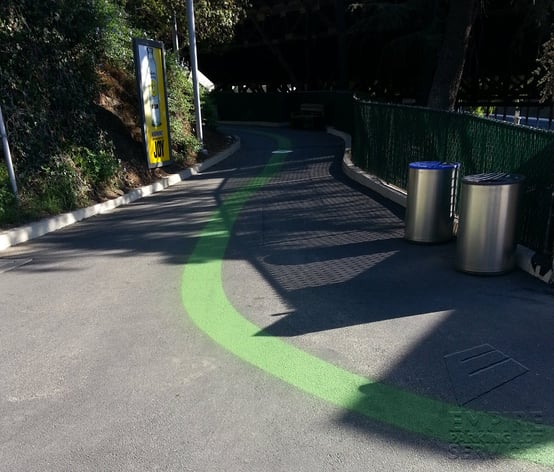 About this Specialty Striping Project
As mentioned above, this project consist of striping roughly 1000 linear feet of that Iconic 14" green line throughout the Hollywood Bowl with a removable striping paint.
This removable striping paint is a specialty product that can be applied just like regular striping paint, and stay down and wear just like regular paint does and for as long as you need it to. Removal of this paint is easy in that we apply a special solvent that allows the paint to come off utilizing nothing more than mild pressure washing. Although the product is sold as environmentally safe, at Empire we use water reclamation to insure that nothing hits the storm drains during the removal process.
At Empire we can paint down a 1000 linear feet of this green line on a Monday morning at 5:00 AM, and then remove that same line on Monday night like it was never there. This product is great for street events such as marathons, racing events, food fairs, or even swap meets. This product also can be painted on parking lots, parking structures, warehouses, and sidewalks. We can even pain on top of your building's rooftop.
About this New Graphic Marketing Medium
Say for instance The Angels Stadium wanted to offer some prime location advertising space for one of their important sponsors. At Empire Parking Lot Services, we can paint on any concrete or asphalt area and then remove it with relative ease. The great news is that the paint is not extremely expensive, and we can create your corporate logo at almost any size with amazing accuracy. So now we can paint that giant Coca Cola logo on a Monday, and then remove it a week later. This is truly an underutilized medium for graphic marketing and advertising. We can also paint these corporate logos and icons on rooftops in this removable paint or in a permanent coating as well. Call for examples and more pricing and product information.
Call us Today for your Specialty Striping Project
If you have an event in mind that could benefit from this type of temporary painted graphics feel free to give us a call. We can provide you with a fast quote, as well as give you more information about custom paints, decals, and large format stenciled logos. Also, keep in mind that we perform all of our services in-house, so you never pay for unnecessary mark up on any service we offer.