Asphalt Repair in Irvine!
Everyday we work in or near Irvine, California, providing services such as asphalt paving, concrete repair, ADA upgrades, as well as parking lot maintenance. Empire Parking Lot Services is a local paving contractor, licensed in Irvine and the surrounding areas. We understand the needs of our clients, and have the technical expertise to guide them through their parking lot projects.
As a fully licensed, bonded, and insured asphalt paving contractor, we offer a wide variety of services to the city of Irvine, as well as the rest of Orange County, California.
With customers like the Irvine Company to Meguiar's Headquarters, we can service projects of all sizes, from simple pothole repair, to complex asphalt overlays and removals. As in all locations, our Irvine asphalt repair and concrete projects are second to none.
Furthermore, we only send out highly skilled employees who understand important factors, such as the abilities to communicate with the customer and read blueprints, as well as the experience to make important decisions on the job. Our field foremans are skilled in understanding all ADA and MUTCD standards and best practices. From our sales estimators to our foremen, our entire team will keep your projects, current with both ADA and MUTCD standards as well as the city of Irvine's unique building standards.
"Meguiar's Inc highly recommends Empire Parking Lot Services. Their professional and courteous attitude helped us to complete our parking lot renovation on time and under budget. They continue to be the best price and most attentive to our ongoing projects. Thanks for a job well done!"
-Matt Biscarrate, Building & Facilities Manager at Meguiar's Irvine Headquarters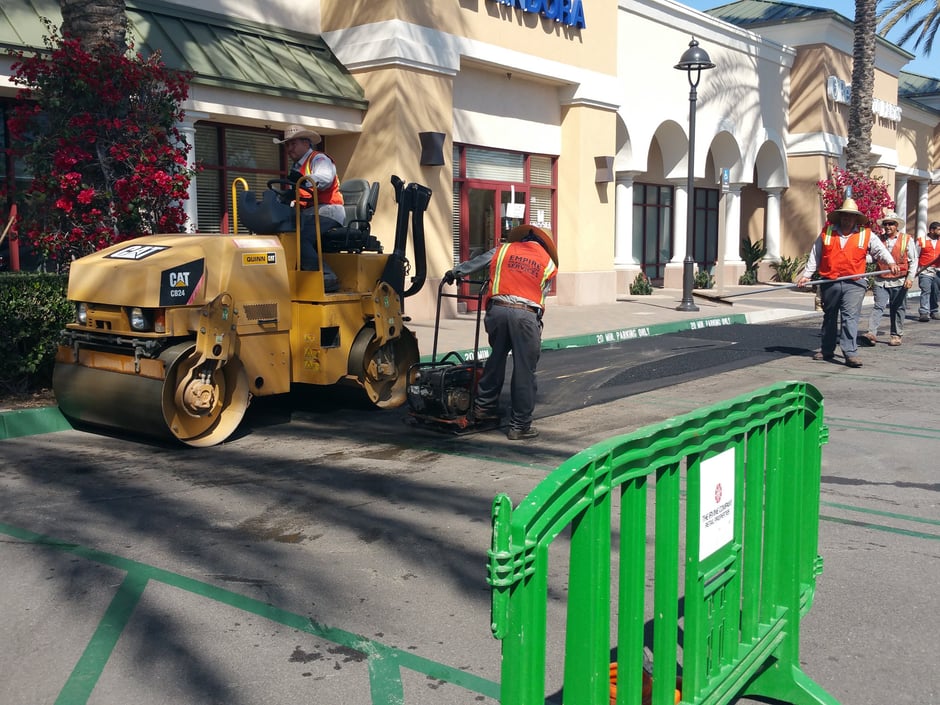 (Irvine Company Retail Properties new asphalt repairs 2015)
Asphalt Paving & Repair
When it comes to asphalt repair and paving, nobody offers Irvine properties better quality and service than Empire Parking Lot Services. Empire combines the technical expertise necessary for proper asphalt repair with our knowledgeable contractors that will work with you to get the most from your property projects.
Concrete Repair
Whether your parking lot's concrete is cracked, buckling, or broken, Team Empire can repair or replace it for you. We use state of the art equipment including concrete breakers, bobcat loaders, and dump trucks. Let one of our estimators meet with you, look at your concrete repair project, and inform you about options that work best for your situation and budget. When it comes to Irvine, California's concrete repair companies, Empire is the number one rated concrete contractor.
Parking Lot Striping & Maintenance
Irvine has thousands of parking lots, and you'll find Empire working on some each and every day. Our parking lot maintenance services are all done in house with our own equipment and people. These services include major parking lot repair services like painting and striping, but we also offer many other parking lot related services as well.
Know Irvine's Zoning & Code for Your Project
Empire Parking Lot Services knows that each paving and parking lot project needs to be up to code, and sometimes that can change from city to city. We make sure that we are up to date on all of Irvine's parking space codes, as well as understanding all Orange County parking lot codes.
We at Empire are also able to customize your parking lot to make it as attractive as possible, as we've done with The Irvine Company's parking lot striping, painting spaces dark green instead of white. Bringing the highest quality service to our customers is our number one priority.
Empire Parking Lot Services offers service to the following Irvine, CA zip codes: 92602, 92603, 92604, 92606, 92612, 92614, 92617, 92618, 92620, 92697