Empire Parking Lot Services is a parking lot maintenance company that places heavy emphasis on quality & service. As a paving contractor headquartered in Orange County California we know what it means for businesses to have that clean and organized look in your parking lot. It needs to welcome your cusotmers and give them a good positive feeling.
Each and every day we work in or near Lake Forest California. With services such as asphalt paving, concrete repair, seal coating, as well as parking lot striping. Empire Parking Lot Services is a local paving contractor that understands the needs of their customers.
We are a fully licensed, bonded, & insured asphalt paving contractor that offers a wide variety of services to the city of Lake Forest as well as the rest of Orange County, California.
With customers ranging from Starbucks to Costco and projects from small pothole repairs to large complex complete asphalt overlays, Empire Parking Lot Service can handle your project, offering you the customer, the best combination of competitive pricing, quality work and top customer service.
Call us toll free at 877-760-2757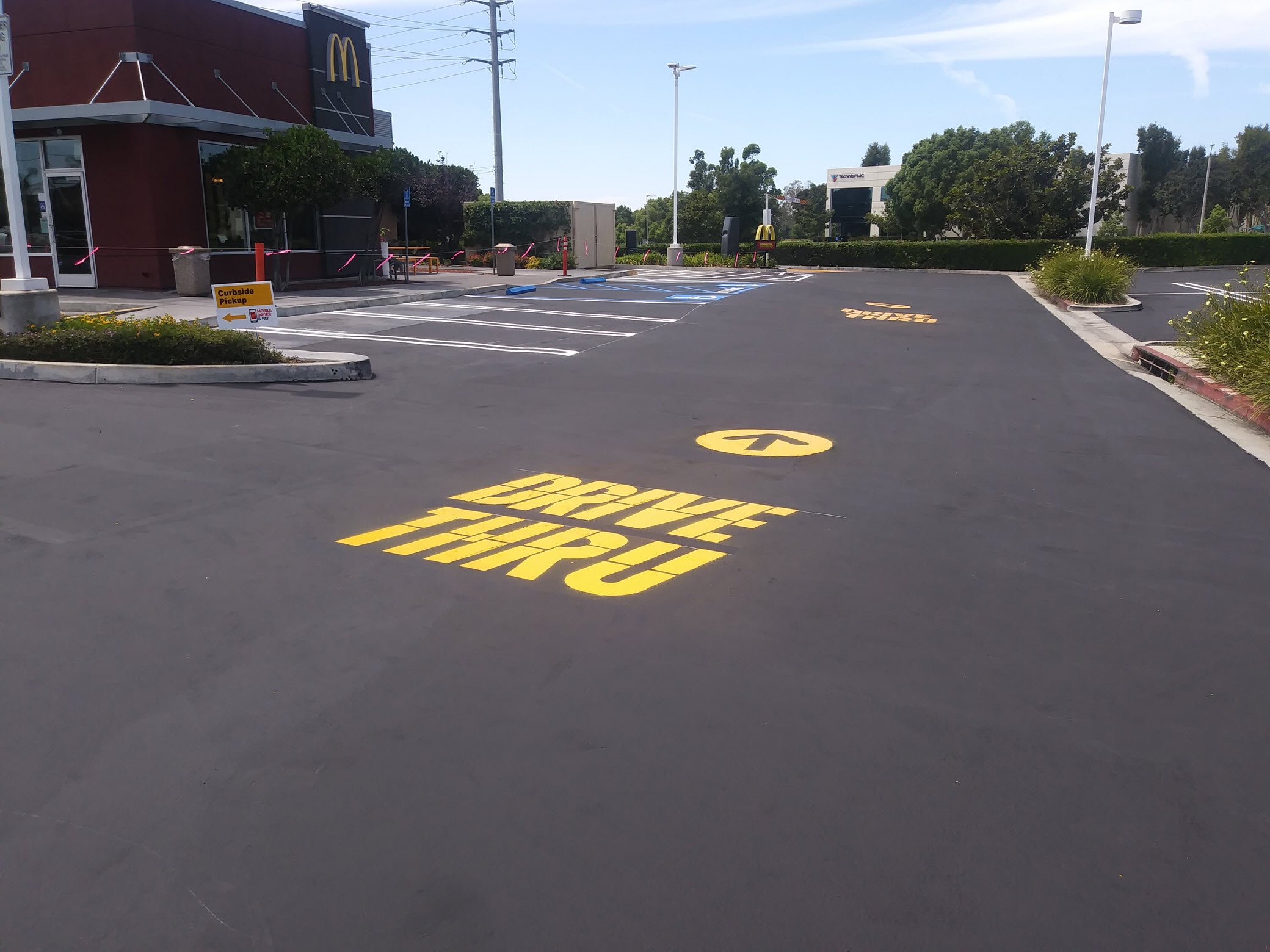 (Lake Forest McDonald's August 2019)
Asphalt Paving Services offered to Lake Forest California.
As mentioned Empire Parking Lot Services offers general parking lot maintenance needs like asphalt repair, concrete repair, seal coating, & parking lot striping. However, we also offer a wide variety of needs that go beyond that. Read through our service below for a more complete list of services offered by Empire Parking Lot Services.
Asphalt Services:
Asphalt Paving, Asphalt Patching, & Asphalt Overlays
Seal Coating
Asphalt Crack Filling, Crack Sealing & Crack Repair
Asphalt Seal Coating
Asphalt-Pothole-Repair
Asphalt Skin Patching
Petromat Overlay
Speed Bump Installations
Asphalt Grinding Services
Concrete Repair Services:
Handicap Ramp & ADA Upgrades
Sidewalk Contractor
Driveway Approach Replacement
Concrete Grinding Services
Curb & Gutter Construction & Repair
Flow Line Construction and Repair
Slab Repair & Slab Construction
Saw Cutting Services
Concrete Demolition
Hourly Equipment Rentals
Building Slabs / Foundation Repair & Construction
Concrete Footings Construction & Repair
Loading Docks / Equipment Pads
Containment Area's
Parking Lot Striping:
Line Striping
Curb Painting
Handicap Striping Services
Parking Lot Stencil markings
Playground Painting
Sports Field Painting
School Playground Striping
Miscellaneous Parking Lot Needs:
Pressure Washing
Wheel-Stop installation
Sand Blasting Services
Traffic Sign & Bollard Installation
Truncated Domes
Truncated Domes Installation
ADA-Handicap Upgrades
Commercial Parking Lot Maintenance Needs
Empire Parking Lot Services offers a complete line of commercial property parking lot maintenance needs. We have our own equipment and employees. We only subcontract a fraction of our services our in order to maintain the quality and service that we offer. When working with Empire Parking Lot Services you will notice the difference from the first time you talk to the salesmen. At Empire Parking Lot Services we use state of the art equipment in the field and the office. From highly detailed diagrams clearly explaining where and what work will be installed to a heavy emphasis on quality on each and every project. Our commercial customers include some of the biggest names in business. If they trust us, than you can as well.
Jones Lang LaSalle
CB Richard Ellis
Boeing
Irvine Company
Williams Real Estate Management
Coreland Company
Lake Forest Important Information
City of Lake Forest City Hall
25550 Commercentre Drive, Suite 100
Lake Forest, CA 92630

Phone (949) 461-3400
FAX (949) 461-3511