Empire Parking Lot Services is one of Anaheim California's leading asphalt repair & asphalt paving contractors. For years we have helped property managers and owners maintain the beauty and structural integrity of their parking lots. Our asphalt repair service area is the entire Southern California area, including the counties of Orange, Los Angeles, Riverside, San Bernardino, as well as parts of Ventura and San Diego. Every day Empire-PLS works in or near the city of Anaheim California every month. With services such as asphalt paving, concrete repair, sealcoating, as well as parking lot striping, Empire Parking Lot Services is a local paving contractor that understands the needs of their customers.
We look forward to hearing from you and if selected as a successful bidder, you can be assured that any asphalt repair or concrete repair that we do for you will be completed with the highest quality of workmanship. Learn more about our services below as well as some other useful information about Anaheim California. There is really only one call that you need to make to keep your parking lot looking great. We strive to be the best Local Paving Company in Orange County, so give us a call and put us to the test. Empire-PLS stands behind each and every project we do. Just take a look at what our customers are saying about us online. Scroll down a bit and read what our customers have been saying for years now.
Asphalt Repair Services
When it comes to Anaheim asphalt repair and asphalt maintenance nobody offers your more than Empire Parking Lot Services. Empire offers very competitive rates to Anaheim California property managers and owners. Take a look below at our services and let us know how we can help you on your next asphalt repair project.
Asphalt Removals (demolition, loading and hauling)
Asphalt Overlays (complete asphalt overlay paving)
Asphalt Patching (pothole repair, skin patching)
Asphalt Grinding (milling, grinding)
Concrete Repair Services
Whether your parking lots concrete is cracked, buckling, or broken, Empire-PLS can repair or replace it for you. We use state of the art equipment including concrete breakers, bobcat loaders, and dump trucks. Let one of our estimators meet with you, they will look at your concrete repair project and inform you about what your options are, as well as help you to decide what the best solution is for your budget. When it comes to Anaheim concrete repair companies, Empire is number one.
Concrete Flow Line Repair (broken, buckling, cracked, removal)
Concrete Sidewalk Repair (broken, buckling, cracked, removal)
Concrete Swale Repair (broken, buckling, cracked, removal)
Concrete Curb Repair (replacement, patching, root damage)
Concrete Pad Repair (broken, buckling, cracked, removal)
Block Wall Repair (missing blocks, broken wall, loose blocks)
Handicap Ramps (ada compliant ramps, loading ramps)
Sealcoating Services
Sealcoating is the number one thing a property owner can do to protect the investment the have made in asphalt paving. By sealcoating your parking lot every other year, you can greatly reduce the amount of cracking that will start to appear as your pavement surface begins to dry and crack. Furthermore, once hairline cracks start to appear in your parking lot, crack filling and crack sealing are the best defense on keeping water out of
Parking Lot Sealcoating (slurry coating, surface coating)
Parking Lot Cleaning (sweeping, blowing, weed abatement)
Oil Spot Treatment (scraping, cleaning, tacking, repair)
Crack Filling (crack cleaning, weed killing, crack repair)
Line Striping & Markings Services
When it comes to line painting or line striping in Anaheim, nobody offers better quality than Empire Parking Lot Services. With each new layout striping project we do, our customers have peace of mind knowing that their parking lot striping will be done in a professional way that meets all local and federal standards. This includes ADA, MUTCD, as well as your local city standards. If you want to reconfigure your parking area to maximize the amount of stalls you have, we can help with that as well. Our estimators will meet with you and help you to get the most from your parking lot layout design that is possible. We offer many services that fall under the heading of parking lot striping and line marking, so browse through them and let us know how we can help you today. For the best Anaheim parking lot striping company give us a call.
Parking Lot Stencil Painting (visitor, guest, names, numbering)
Raised Pavement Markers (bot dots, reflectors, RPM's)
Wheel Stop Installation (concrete & rubber parking blocks)
Parking Lot Striping (line striping, parking lot markings )
Bollard Installation (removal, replacements, painting)
Pressure Washing (parking lot clean up, parking structures)
Sign Installation (handicap, no parking, street signs)
Curb Painting (pressure washing, scraping, stenciling)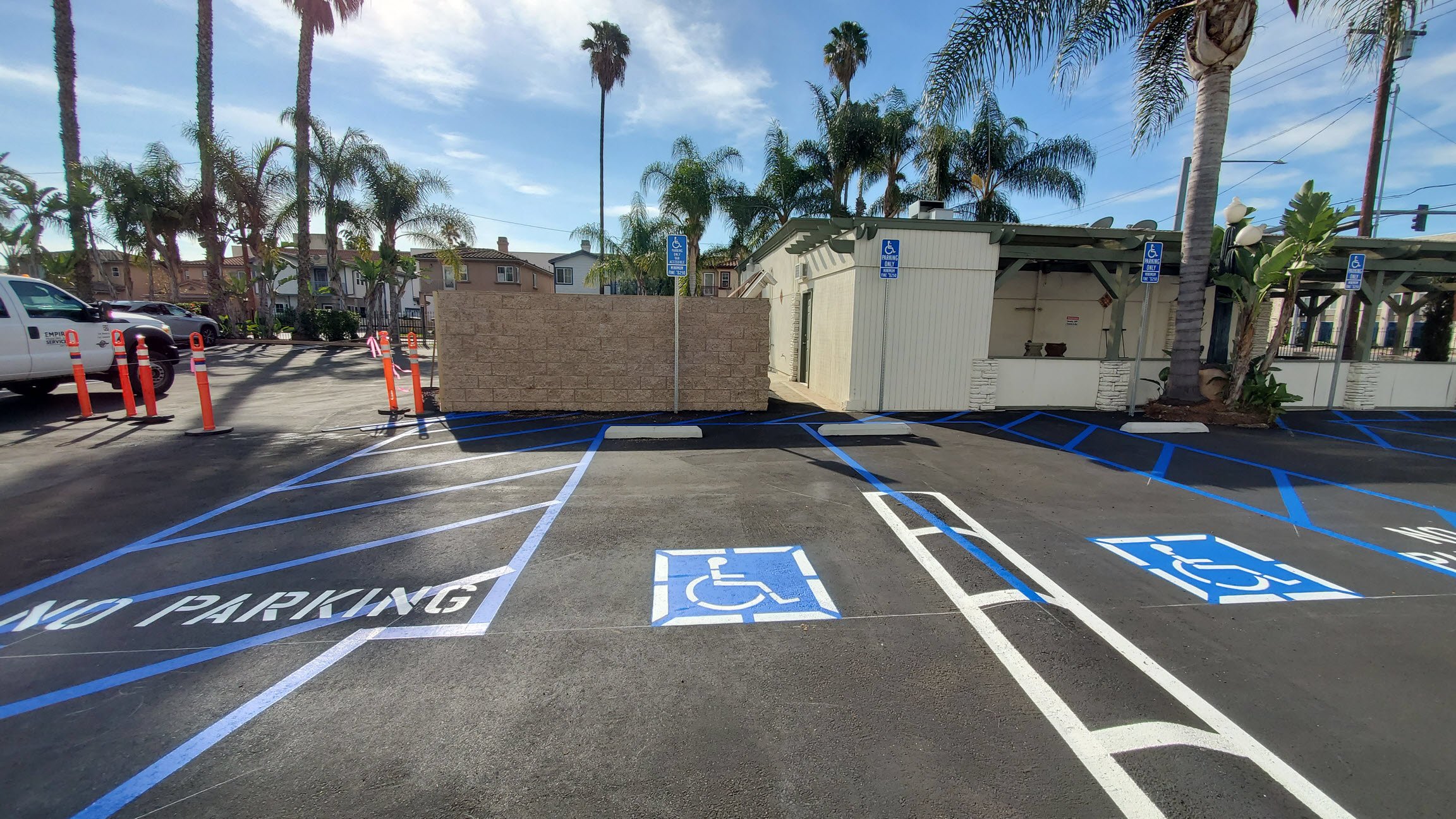 (New Life Adult Day Care, 2021)
Useful Information for the City of Anaheim California
Below is a list of information that pertains to the city of Anaheim. You will find this information helpful if you are working on a project that requires inspection or code for Anaheim California. Feel free to call us if any information is incorrect as links and phone numbers change over time.
Anaheim City Hall Address:
200 South Anaheim Boulevard Anaheim, CA 92805 (click for map)
Anaheim City Hall Phone Number
(714) 765-5100
Anaheim Zip Codes:
92801-92809, 92812, 92814-92817, 92825, 92850, 92899
Anaheim, California Area Codes:
714