Warehouse Floor Striping Specialist
Empire PLS offers warehouse floor striping throughout Southern California. Our service areas includes all of California, However we are most competitive in these counties: Orange County, Los Angeles County, Riverside County, Kern County, Ventura County, San Bernardino County, San Diego, Santa Barbara , San Luis Obispo.
Are you out of state? We can travel as far as our customers need us to. We also have crews that we can put on the road for all the California's surrounding states. Please take a moment to read more below. If this looks like a service you are thinking of having done, please call us to discuss your project. Our estimators can help you to make sound educated decisions about your warehouse floor striping needs today. Below is a project completed in November of 2011 in the city of Rancho Cucamonga, Ca.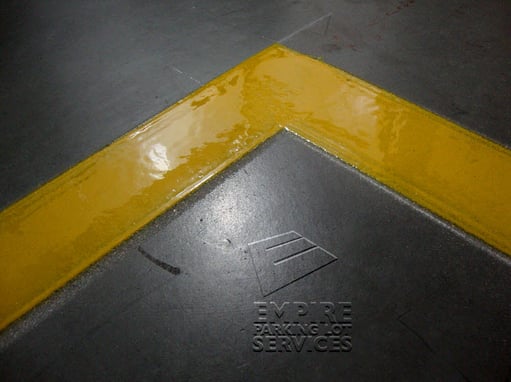 Warehouse Floor Striping Specialist
When it comes to warehouse floor striping, you need to be sure that you hire a contractor that understands all of the complexities involved throughout the project. This painting service is unlike typical parking lot striping found on the outside of your commercial warehouse or facility. The only real similarities these two trades share is the equipment used to place the paint on the ground. Many untrained concrete striping contractors enter into these types of projects not understanding the differences and that can end up costing you alot of money, not to mention wasted time. Warehouse floor striping not only requires an understanding of complex paint systems, such as 2 part epoxies and urethane enamels, but also an understanding of what the customer's product needs will be and foreseeing problems that customer may run into.
Variables to Consider
One of the first questions we ask our customer is "how long do you need it to last?" Once we have determined if you are looking for long term vs. short term paint product, we can begin to cater your proposal to your specific needs. For example, if you need a product that is going to last 3 years without fail then we would recommend a two part epoxy with shot blasting for preparation of the concrete surface. This product can be guaranteed to stay down without failure for three years. Another example might be someone who is looking for warehouse line painting that will only last a year or two such as a building tenant with a two year lease. In this example, we would probably recommend an oil base paint without any prep of the concrete. Though there can be no guarantee on this product, it should get you through the two years with enough paint adhesion to serve your basic staging and marking purposes. Here is another example of a situation that may apply to you. Many of our customers need us to paint concrete on a loading dock that is exposed to the elements. Empire Parking Lot Services would recommend shot blasting the areas needing to be painted. Then use a industrial urethane enamel product on those sun exposed areas. Urethane holds up better to sunlight & weather than its rival enamels such as epoxy. This is the same logic in cars being painted with a urethane paint product. There are many factors when it comes to choosing the correct product for your job. So talking with one of our highly trained estimators will help you figure out which of them you need to consider.
The Process
Many times we are asked about the process and what to expect when getting warehouse line striping done. Though most of the times the process is about the same, there are some variables to consider from project to project. The best way to find out what your variables might be is to give us a call and talk to one of our estimators. We can answer your questions and help steer you in the right direction.
Frequently Asked Questions
Question #1: Does Your Concrete Need to Be Cleaned?
Often times, industrial warehouses have been sitting for sometime before they are ready to be worked on or in. If you are considering getting your warehouse line striping done and the surface has a large amount of dust or dirt on it, then getting that concrete cleaned is in order. Empire PLS is often asked to clean a surface to get it ready for paint. We use state of the art equipment such as ride on sweepers and scrubbers to handle these needs. Check out our Warehouse Floor Sweeping page for more information about this service.
Question #2: Are you looking for Quality, Value or Both?
Sometimes our customers need the job done right, but sometimes they need it done inexpensively as possible. At Empire we don't compromise quality, ever. Instead, what we try to do is find the best combination of products and services that gets your warehouse painting done at your budget.
Question #3: How long will it take?
This is another common question we get asked before starting a warehouse line striping project. Of course, the answer to that question is going to vary based on the total number of linear or square feet your project entails. However, what we can say is that most of our projects are based on a 5-8 thousand feet per day scenario. So, if you have a project that is 2000 linear feet or less the project typically takes just one day. On the other hand, if your project reaches into the 100,000 linear feet range, then it will typically take around two weeks from start to finish including a punch list completion. The largest project empire has taken on to date is 190,000 linear feet of staging lines. That project took us 20 days to complete. Other variables need to be considered as well, such as how many coats of paint you are looking for, will shotblasting services or sweeping services be needed, etc. Once we know what your needs are, we can give you a rough estimate of what to expect in terms of a time frame for completing your project. Also keep in mind that if your warehouse is active with products and employees we can paint it in halves or quarters so your business isn't disrupted.
Warehouse Floor Painting & Coatings.
If you have a warehouse floor or concrete surface that needs to be coated or re-coated Empire PLS can handle that as well. We offer several coating systems that can be applied to areas that need to be painted on your concrete warehouse floors. Call and speak with one of our friendly estimators for more information.
Happy Customers
Genco
Home Depot
99 Cent Stores
Coca Cola
Costco
Federal Express
Honda Motors
General Motors
Hino Motors