Traffic Signs & Bollard Installation
Serving Orange County, Riverside, Los Angeles, San Bernardino & San Diego California.
Here at Empire-PLS we offer a full line of traffic sign & steel bollard installations throughout Southern California. When it comes to our sign and bollards we only use quality materials and supplies. From 3M reflective tapes to heavy gauge steel post and bollards, that's why the quality can be seen in each one we install, and we install a lot of them!
Our traffic sign & bollard Installation service areas include: Orange County, Los Angeles, Riverside, San Bernardino, and parts of Ventura, & San Diego. Please, take a moment to read more about our traffic signs & bollards below. If this looks like a service you are thinking of having done, please, call us to discuss your project. Our estimators can help you to make sound educated decisions about your needs today.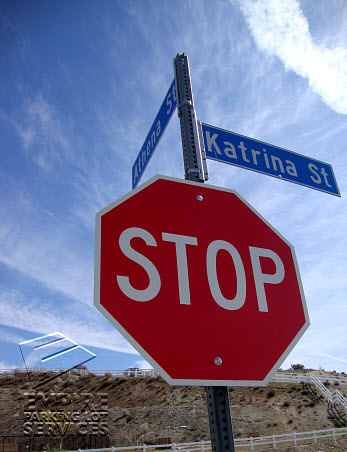 Traffic Sign, Parking Lot Sign, and Street Signs Installed & Supplied
Empire-PLS offers a full line of traffic sign installation including any of the signs typically found throughout your parking lot or parking structure. Take a look at some of the sign types and pole types we currently offer. Please keep in mind we offer a complete line of custom sign & pole options as well. Your imagination is the only thing that limits you.
Here are a few signs we install every single day. All of our signs meet the MUTCD standards as well as all local ADA requirements.
Handicap Parking: Van accessible, Standard & Entry signs )
No Parking Fire Lane Signs meeting all local fire codes
Custom Parking Signs: Motorcycle, visitor, Employee of the month, Reserved parking, Etc
Street Signs: That meet California MUTCD standards
Traffic Signs: stop signs, do not enter, tow away
Community Traffic Signs: Drive slow, Children at play, Neighborhood watch Etc.
Parking Structure Signs: Reserved, Visitor, Floor Markers
Stall Designation Signs: Parking Layouts, Designated parking, Etc
Handicap Sign Installation / ADA Sign Installation
Empire Parking Lot Services offers a complete line of California compliant handicap sign & post. A complaints handicap sign is the simplest way to start getting your parking lot compliant with the ADA. We offer a large variety of ADA compliance services that you can read more about here.
Every year Empire-PLS installs hundreds of handicap signs and post throughout the Southern California area. Not only do general contractors and municipalities use our services, but property owners and facility managers do as well. The reason is simple. We understand how to get your handicap signs up to code quickly, affordable, and correctly the first time.
Empire-PLS is the right choice for your handicap parking lot sign installation contractors so call us today.
Call toll-free at: 877-760-2757
Steel Bollards Installation & Repair
Empire-PLS also offers a full line of steel bollards for both interior and exterior purposes. All of the bollards we install are made of 100% steel and installed to last a long time, and look good doing it. If you have broken or bent bollards there is chance that they can be repaired. We are a fully licensed and insured steel bollard installation contractor.
4" Bollards

6" Bollards

8" Bollards

Custom fabrications available as well

Special order Items can also be installed

Crash Barriers
Ask us about our lock down, or lockable bollards, removable bollards, as well as permanent bollards. Call today for a free estimate on your next bollard installation project in Orange County, Los Angeles County, Riverside Ca., San Bernardino, San Diego County, and Ventura County Call
Bollard Repair and Maintenance Services
If you have a broken or bent bollard that you need repaired, allow us to first look at the bollard to determine whether or not it is able to be fixed. Often times, a bollard can be fixed for sometimes half of what it cost to install a new one. Furthermore, we offer bollard painting & bollard sleeve installations that will protect your investment from sun and rain. Call us today to learn more about what we can do for your bollards, crash barriers, and steel poles.